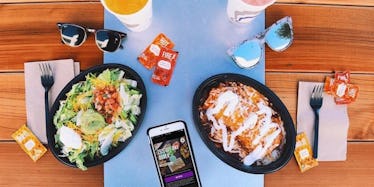 I Spent A Week Chatting With TacoBot, The New Taco Bell Ordering System
If you use Slack as your primary source of communication at work, you're probably checking it more than your Facebook, Instagram or any other social media.
That's just how Slack works.
My Slack app is always open while I'm at the Foodbeast office, so it makes sense Taco Bell would try to take advantage and make its food ordering accessible on the application many of us spend most of our workday on.
Taco Bell let us try out its new "TacoBot," a robot that essentially jumps onto your Slack team and tries to become part of the gang.
You can talk to the TacoBot as you would a co-worker, share dirty jokes with it and, oh yeah, it will let you order food from a specialized Taco Bell menu, meant to help you get right back to work without skipping a beat.
What it actually is, though, is a headache that made me appreciate the chain's mobile ordering app even more.
The Setup
The setup was pretty basic. You name the bot, give it a profile pic and welcome him or her to your Slack team. The hardest part was probably choosing a proper name. After several great suggestions from the Foodbeast fam, like, "Del TacoBot" and "Kieth," we all had a pretty good feeling about "TacoJesusDotBiz" and ran with it.
It can hold a conversation with you. Kind of.
The Taco Bot is programmed to respond to your questions, a lot of times in a smartass tone, and it's kind of cute for about five minutes. After you've run through all of its pre-programmed responses, however, you just want to order.
Oh, yeah, there was the time it just ignored me for two days straight. I felt like I was talking to a really pretty girl who wouldn't give me the time of day, but it did eventually get back to me, as do the pretty girls.
The ordering process.
It took us some time to get the ordering right because it is still in Beta, so TacoJesusDotBiz needed a little time to figure out I was trying to order something but it eventually got it. Also,TacoJesusDotBiz apparently had no idea what a chicken quesadilla was and was flabbergasted at the thought of ordering drinks along with our food, but that was eventually fixed.
The Taco Bot has some keywords to get the menu to pop up. You type in, "What's on the menu?" and it'll respond with a list of menu items ranging from the new Quesalupa to Doritos Locos Tacos.
You can choose from 30 of its menu items, all of which are pretty much standard items in each store. You type out what you want to order, along with how many and add it to the cart.
When checking out, it'll take you to the Taco Bell page, where you set up a payment plan and find the nearest Taco Bell location for pickup. Yup, pickup. You still have to get up and go to Taco Bell, which was a little annoying since TacoBot was meant to not disrupt my workflow.
Compared to the Taco Bell mobile app.
The regular Taco Bell mobile app is 100 percent easier to use than this TacoBot concept. I get the Slack aspect. People are always on Slack and TacoBot is a cute way to add to your Slack experience, but on the regular mobile app, I can place an order on my walk to the car faster than I can type out orders on Slack.
The TacoBot also has a limited menu, is a lot less user-friendly and makes you want to punch it in its taco face when it doesn't know what you're trying to tell it.
Taco Bell is going to have to add delivery eventually, right? The ease of Slack's use kind of goes out the window when we still have to go pick up our order.
For more awesome food stories, check out Foodbeast.