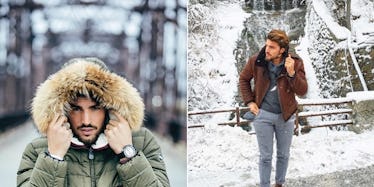 These Hot Guys Embracing Winter Will Keep You Warm All Season Long (Photos)
Insatgram
If you've been looking for something to help you beat the winter blues, look no further.
Remember when we introduced you to the heavenly "Hot Dudes Of Fall" a while back?
Well, if that collection of autumn eye candy made you drool more than a PSL, you'll be glad to know fall isn't the only season with some seriously irresistible fellas.
We recently set out to make winter a little more bearable by finding a bunch of smoking hot dudes who aren't afraid to embrace the cold and show off their favorite winter activities on Instagram.
Whether these babes are using their brawn to build a snowman, stealing hearts on the ski slopes or simply making sweaters look sexy as hell, these cold Casanovas are guaranteed to give you the chills.
Take a look at the pictures below to see these winter warriors.
You might want to take your jacket off because things are about to get steamier than a cup of hot cocoa up in here.
Behold, the hot dudes of winter.
This icy eye candy will definitely cure your winter blues.
Ugh, I just love it when a man shovels shirtless.
Jack Frost has nothing on this snow-covered stud.
Is this sidewalk unsalted? Because I'm falling for you.
Seriously, who knew winter could look so damn sexy?
Just look at this beautiful man in a beanie...
...this handsome hunk in a fur hood...
...this ice-cold lady killer...
...these bundled up babes...
...this sizzling skier...
...and this winter warrior with a seriously impressive icicle.
I'd build a snowman with you any day, babe.
I must have the flu because you are giving me the chills.