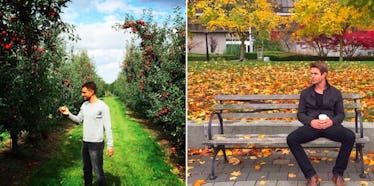 Hot Dudes Embracing Autumn Are Guaranteed To Make You 'Fall' In Love (Photos)
Fall will always be my favorite season.
Between the picture-perfect weather, the gorgeous foliage and the return of the almighty PSL, autumn is arguably the best time of the year.
If there's one thing I appreciate just as much as the beauty of autumn, it's a bunch of irresistible dudes who look just as gorgeous as the changing leaves.
Therefore, it only made sense to put these two heavenly things together and create an Instagram account that's a basic bitches dream come true.
Behold, the "Hot Dudes Of Fall."
As the name suggest, this steamy account features a bunch of dudes who aren't afraid to embrace sweater weather and flex all of their favorite fall activities on social media.
Whether these dudes are picking pumpkins, lying in the leaves or stuffing their faces with pumpkin-spiced treats, it's not hard to see these fellas are fine AF and guaranteed to make you "fall" in love.
Try not to drool on your keyboard as you check out the autumn eye candy below.
Say "hello" to your new favorite Instagram...
...the "Hot Dudes Of Fall."
These gorgeous guys love sweater weather just as much as the next basic white girl...
...and they're not afraid to flex all of their autumn activities on social media...
...while looking hot AF, of course.
Tailgating with this stud will make you extra thirsty.
If you were a pumpkin, I'd definitely pick you.
These men appreciate the finer aspects of autumn...
...like taking long walks through the orchard and picking the perfect apples...
...carving spooky Jack-O-Lanterns...
...looking all gorgeous as they lie in piles of leaves...
...and indulge in pumpkin-spiced everything.
Seriously, there's nothing sexier than a bunch of bros who love their PSLs.
The leaves aren't the only thing that should be admired in these woods.
I'd get lost in an orchard with you any day.