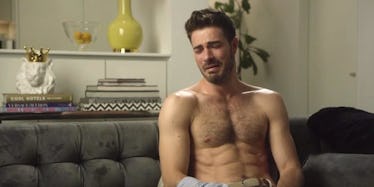 These Hot Guys Crying Will Make Your Sh*tty Week A Whole Lot Better (Photos)
k
It's not hard to see the Internet is obsessed with hot guys.
Lately, we've seen everything from dudes with dogs and men drinking wine, to Instagram accounts solely dedicated to the man buns of Disneyland.
Not too long ago, we showed you the marvelous Tumblr account featuring a bunch of hot guys laughing.
If you thought those giggling guys were awesome, you'll be glad to know those fellas aren't the only ones showing their emotions on social media.
We recently came across another group of hot guys guaranteed to give you all the feels: Hot Guys Crying.
This new trend features all sorts of men who aren't afraid to reveal their sensitive sides and shed a few tears, while still looking fine as hell, of course.
Sure, babbling like a big man baby might not be considered all that macho, but there's something oddly alluring about a sad, sexy stud who's in touch with his feelings.
Whether they are just letting a few drops roll down their cheeks or letting it all out and really turning on the water works, these melancholy men mastered the art of cute crying and will definitely make you want to wipe all of their tears away.
Forget those laughing dudes.
There's a new group of guys guaranteed to make you wet...
...with their tears, that is.
That's right, hot guys crying are the Internet's newest obsessions...
...and now people just can't seem to get enough of these blubbering babes.
These dudes know only real men cry...
...and sometimes when life gets rough, you just have to let it all out.
Nothing tugs at the heartstrings quite like a sobbing Harry Styles...
A heartbroken hunk...
...or a tearful Tom Brady.
Just look at that smoking hot cry face.
Whether they're shedding some tears over sports...
Having a hard time saying goodbye to friends...
Or having an all-out man-tantrum in the car...
...these guys make sobbing look surprisingly sexy.