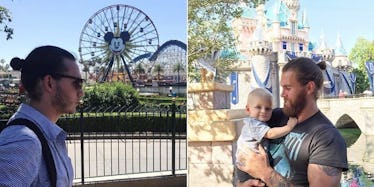 'Man Buns Of Disneyland' Are Taking Over And They're Seriously Magical (Photos)
Disneyland is pretty damn magical all on its own.
But, you know what makes the happiest place on Earth even better? Hot men. Specifically, hot men with heavenly man buns.
That's right, all those short-haired DILFs pushing strollers around Disney now have some serious competition because Man Buns of Disneyland is a real Instagram account, and let me tell you, it's absolutely glorious.
I'm not sure what it is, but there's something incredibly sexy about a dude not afraid to show off his love for hot hipster hairstyles and his admiration for Mickey Mouse at the same time.
This Instagram account features candid snaps of all sorts of studs sporting badass buns in a variety of shapes and styles; there's an irresistible man with a bun to make everyone's dream come true.
If their impressive hairdos aren't enough to get you all hot and bothered, you'll be glad to know some of these hunks are actually bun-clad DILFs visiting the park with their adorable babies.
Seriously, there's so much hotness going on all at once you might actually die when you see these dudes.
Take a look at the pictures to see this wondrous Instagram account.
If you thought the Disney DILFs were the hottest things ever...
...you might want to brace yourself.
Disneyland is about to become even more magical...
Because buns are now taking over the park...
...well, man buns, to be exact.
Feast your eyes on the Internet's newest obsession: Man Buns of Disneyland.
This amazing account features all sorts of hot dudes showing off their brilliant man buns during a day at Disney...
...and trust me, this account does not disappoint.
Visitors submit their photos using #manbunsofdisneyland...
And the creators of the account post everything from beautiful buns wandering through the Enchanted Forest...
And Prince Charming with a perfect pouf in front of the Cinderella Castle...
...to knights with buns of steel who aren't afraid to flex their strong muscles.
Did I mention some of these sizzling dudes are DILFs?
Yep, there are actually a lot of hot, bun-clad dads carrying their kids around Disney.
Excuse me for a minute while I melt into a puddle on the floor.
I think it's safe to say we all want to be that lucky girl right now.
Citations: Man Buns Of Disneyland' turns Instagram into the happiest place on Earth (Mashable)