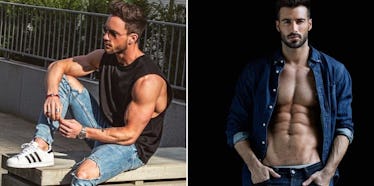 These Hot Dudes In Denim Are Totally Blessed In The Jean Pool (Photos)
Over the past few months, we've fogged up your computer screens with all sorts of hot dudes doing normal things.
If you thought we had finally run out of attractive men to exploit, don't worry.
We just discovered a new group of babes to lust after.
Blue-jean babes to be exact.
Yep, if there one thing ladies love it's a dude who's not afraid to keep it casual and rock everyone's favorite fabric while looking hot AF, of course.
I don't know what it is, but there's just something about seeing a stud show off his tantalizing V-cut in some distressed denim that sends shivers up your spine.
I mean let's face it, it's basically staring at a steamy Abercrombie ad IRL.
So in order to help you get your daily dose of eye candy, we set out to find a bunch of handsome, denim-clad devils and put them all in one place for your viewing pleasure.
Now let's take a moment to appreciate all the blue-jean babes out there.
Behold, hot dudes in denim.
These babes have a serious case of the blues...
...blue jeans, that is...
...and they make denim look so damn irresistible.
There's a blue-jean babe for everyone out there...
...whether you prefer sexy studs in cut-off shorts...
 ...lady-killers in light wash...
...gorgeous guys in grey renditions...
 ...a classic rinse with rock-solid abs...
...or some tall, dark and handsome denim.
Are you rocking Robins? Because those jeans make you look extra fly.
Just look this heavenly hunk in destroyed denim...
...and this cute guy in a jean jacket.
A shirtless doggy DILF in denim? Excuse me while I go melt into a puddle.
If Canadian tuxedos are wrong, I don't want to be right.
I'd help you squeeze into those jeans any day.
Denim on denim for days.
Are you wearing True Religions? Because that denim is the answer to all of my prayers.
So many denim shirts, so little time.