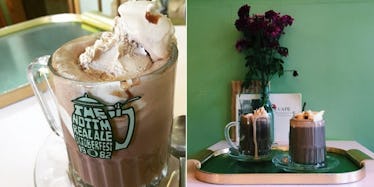 People Are Going Nuts For These Crazy Hot Chocolate Ice Cream Floats (Photos)
Nothing sounds better than cooling off with a frozen treat on a hot summer day.
Remember when we showed you that glorious milkshake topped with a Nutella-filled doughnut from a cafe in Australia?
Well, if you thought that thing looked heavenly, you'll be glad to know those delectable milkshakes aren't the only treats bringing some serious dessert competition to the table these days.
Thanks to a small cafe located in Edinburgh's Grassmarket, you can now chow down on an insane Hot Chocolate Float.
That's right, Mary's Milk Bar just brought the fire and ice of almighty confections together, and now, people are losing their minds over this epic dessert.
It's basically a mug full of delectable hot chocolate made even more delicious by adding a scoop of ice cream, and I'm not just talking about basic flavors like plain chocolate or vanilla, either.
Mary's Milk Bar doesn't play around when it comes to variety, so it's serving up these bad boys in a bunch of different flavor combinations.
Seriously, if these things don't make you scream for ice cream, I don't know what will.
Take a look at the pictures below to see these Hot Chocolate Floats.
Move over, milkshakes...
There's a new frosty treat bringing all the boys (and girls) to the yard...
...of Mary's Milk Bar, to be exact.
This little Edinburgh cafe just changed the dessert game forever, thanks to its latest creation: Hot Chocolate Floats.
Now, you can have your rich, creamy hot chocolate topped with a tasty scoop of ice cream...
...and once you try one of these, you'll never be able to go back to drinking normal hot cocoa ever again.
Did I mention the floats also come in 30 different flavor combinations?
You can sip on dark chocolate and sea salt hot cocoa topped with fig ice cream...
A mug of white chocolate and cardamon cocoa with a scoop of rose gelato...
...or a fabulous orange and cinnamon ice cream float.
If you need an extra kick, you can even swap out your cocoa for espresso.
No matter what flavor you choose, it's pretty much guaranteed to taste like pure happiness in a cup.
Citations: Hot chocolate ice cream floats are a beautiful glorious thing (Cosmopolitan)