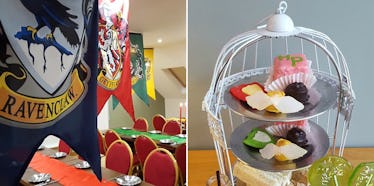 You Can Actually Be A Wizard Like Harry Potter Thanks To This Hogwarts Airbnb
Llety Cynin
Calling all Potterheads! Calling all Potterheads!
Even if you're not a loyal Harry Potter fan, but you simply appreciate "The Wizarding World" at Universal Studios Hollywood, you'll still appreciate this just like Harry appreciated his golden snitch.
If you've spent your days dreaming about being able to experience Hogwarts for yourself someday, your dreams just might come true if you're willing to pay a small price.
To celebrate the 20th anniversary of the release of "Harry Potter and the Philosopher's Stone," a bed and breakfast location in the Welsh county of Carmarthenshire called Llety Cynin put together a spot-on "Harry Potter"-themed presentation for their guests.
The presentation also celebrates the 10th anniversary of "Harry Potter and the Deathly Hallows."
According to Metro, every Tuesday and Thursday guests at the bed and breakfast will be able to sip Wizard's tea in the common room of the establishment.
Since the team over at Llety Cynin is conducting quite a bit of research before revealing their new "Harry Potter"-themed oasis, you can expect things to be pretty legit.
Now that you know where to get your Wizard's tea, you might want to hear about the food. You can find all of the goods in actual owl cages.
Food includes sour lollipops, birthday cake, cake pops, shortbread and chocolate frogs for just $13.46 (£10.95).
Now that we've covered what the kids get, let's focus on the adult wizards. We want in on the magical fun, too!
For us grown-ups, Llety Cynin is offering hot butter beer, "Gamekeepers rock cakes," "Aunties Trifle" and more for just $19.61 (£15.95).
If you're down to spend the night at this wizard world disguised as a bed and breakfast, you'll be able to use the leisure club and sip teas inspired by "Harry Potter."
You'll also be treated to a massive breakfast the very next morning before having to return to the land of Muggles.
At this point, if you're a true "Harry Potter" fan, you're not only looking to visit Llety Cynin for breakfast, you're probably looking to spend the entire night for the full experience.
You'll have to act fast, though. It seems like Llety Cynin has a history of being fully-booked!
In a recent interview with the South Wales Evening Post, Gwawr Davies of Llety Cynin explained,
More than 4,000 Charlie and the Chocolate Factory inspired teas were delivered in 2016 with 80 served in just one day. At the beginning of the year especially, we were fully booked up to six weeks in advance.
And that was "Charlie and the Chocolate Factory." Now, imagine Harry Potter?! Yeah, make those plans ASAP, Muggles.
Citations: Potterheads, rejoice because you can now spend a night in a Hogwarts-themed Airbnb Read more: http://metro.co.uk/2017/01/06/potterheads-rejoice-you-can-now-spend-a-night-in-a-hogwarts-themed-airbnb-6365542/#ixzz4V1PbVG9Y (Metro)