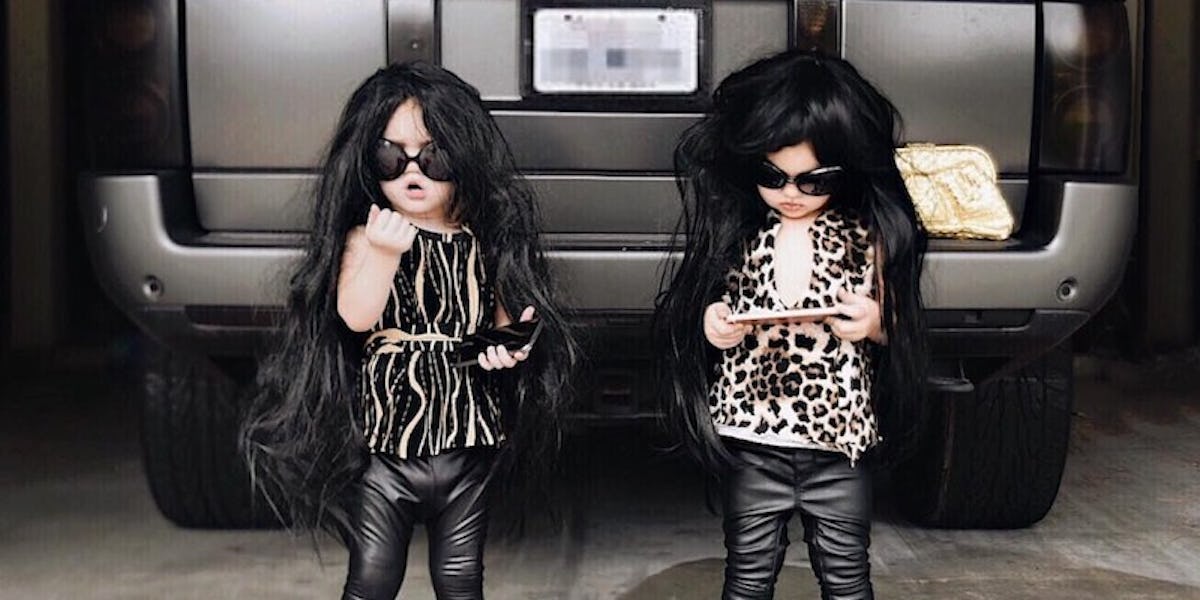 These Cute Twins Slayed Their Kim Kardashian And Kourtney Halloween Costumes
Instagram
How do you celebrate Halloween when your precious twins are both born on October 31? You go viral, of course!
A creative mother of five named Katie Stauffer is making headlines after sharing a handful of adorable photos of her twins dressed up as a number of different TV show characters, celebrities and even presidential nominees.
Katie Stauffer from Arizona has two little Internet stars on her hands after her 23-month-old twins Emma and Mila dressed up as the Kardashians, Donald Trump and Hillary Clinton.
As if that weren't enough, Emma and Mila posed for Instagram as characters from Netflix's "Stranger Things" as well as characters from Netflix's "Orange Is The New Black."
Here's Katie with her five children.
Who knew there'd be TWO princesses of Halloween in such a beautiful bunch?!
Let's just say you might need to go back to the drawing board on your own Halloween costume after checking these out...
Meet 23-month-old twins Emma and Mila from Gilbert, Arizona.
Not only is October 31 Halloween, but it's also the twins' birthday, which means there's only one way to celebrate...
Emma and Mila's mom Katie Stauffer dresses up these adorable tots in priceless Halloween costumes all season long.
The end result? Viral GOLD! They dressed up as Kim and Kourtney Kardashian...
Hillary Clinton and Donald Trump...
Barb and Eleven from "Stranger Things"...
And Piper Chapman and Red from "Orange Is the New Black"
Aren't they just precious?!
There's nothing easy about being this adorable.
So, where did the inspiration for such a creative, fun tradition stem from? Katie Stauffer told us,
I just decided to do it last year for their birthday... one costume a week up until Halloween and it went over really well on Instagram so I did it again this year.
They're naturals.
There's only one question left to ask.
Is there a genius costume idea planned for their birthday on October 31? You know it. Here's a hint: emoji.
If you've been debating what to be for Halloween, I'm sure you'll get a few solid ideas just scrolling through Katie's Instagram account!
Citations: Mom Dresses Her Twins as Kardashians, Donald Trump and Hillary Clinton (US Magazine)