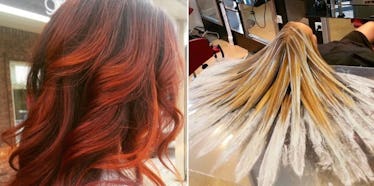 'Fluid Hair Painting' Is The New Way People Are Dyeing Hair Crazy Colors (Photos)
Instagram
Hair stylists are constantly coming up with new ways to achieve the perfect 'do.
Remember when we showed you how to achieve that stunning tie-dye hair look? Well, that technique isn't the only novel method you can use to color your mane these days.
"Fluid Hair Painting" is the latest and greatest trend taking over salons.
Created by KL Christoffersen of Cheeky Strut salon in Grand Rapids, Michigan, this cool technique is similar to balayage, however, it's done by lying down with your hair fanned out on a table.
Christoffersen told Modern Salon,
Because their hair is fanned out, it gives me the ability to thoroughly look over every strand to see how the color melts from top to bottom. Plus, no matter how the client parts their hair you're able to give them a tailored, multidimensional color because you can visually see how everything will collapse together.
Take a look at the pictures below to see this new hair-dye technique.
Fluid Hair Painting is the newest way to dye your 'do...
...and now, lots of ladies are ditching the upright highlights for some horizontal hair colors.
So, what exactly is Fluid Hair Painting?
Instead of sitting up in a chair, this method involves sitting in a reclined position with your head resting against a table.
Then, your strands are fanned out on the table and meticulously painted with hair dye.
Here's how it's done.
This technique gives colorists more control over the placement of hair pigments...
...and results in a multifaceted mane perfectly blended from root to tip.
You can use this trick with a variety of bold colors...
To achieve tantalizing rainbow tresses...
Add some subtle highlights to your hair...
Update your 'do with some blonde ombre...
Or stick with some cool shades...
...to score a seriously mesmerizing mermaid mane.
Thanks to this awesome new technique, highlighting your hair will never be the same.
Citations: Q&A With KL Christoffersen, the Stylist Behind Fluid Hair Painting (Modern Salon)