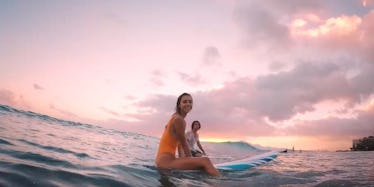 Guy's Epic Warm-Weather Adventures Will Leave You Dreaming Of Summer (Video)
There's nothing like visions of sunshine and palm trees to make you feel extra bad about the fact we're all about to be buried in the biggest snowstorm of the season.
Yep, now that winter is back in full force, it can sometimes feel like the cold weather has no end in sight.
But before you lose all faith, you'll be glad to know we just found something to inspire you to hang in there until the snow melts.
Remember when we showed you the dreamy adventures of Jay Alvarrez and his gorgeous model girlfriend, Alexis Ren?
Well, it turns out Alvarrez just posted another amazing video on YouTube, and this one will make you miss the warm weather more than you ever thought imaginable.
Yep, the new video, simply titled "Home," shows Jay livin' it up alongside his friends as he dominates the surf, conquers breathtaking mountains and leaps over the edge of waterfalls.
Along with the video, Alvarrez wrote,
If you ever feel like you don't belong in life. There [are] always people like you somewhere on this earth that share the same interest & passion. Find them, That's what it took for me to feel truly free.
If one thing is for sure, his epic journeys will certainly inspire you to go after your dreams and live life to the fullest... or at least convince you to beat the cold by hopping on the next available flight to Cali.
Check out the video for a closer look at Alvarrez's latest adventures.