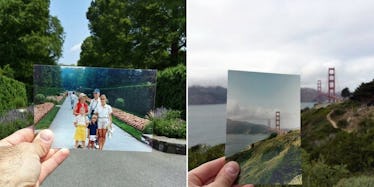 Guy Travels Across The US To Recreate His Late Grandfather's Photos
Photographers are always looking for ways to take their crafts to new levels.
For one Philadelphia-based photographer named Christian Carollo, taking his craft to the next level meant recreating his late grandfather's old photos.
Starting before Carollo was born, his grandfather traveled to different parts of the US and took photos of all of the places he went.
Now, 33-year-old Carollo spends his time traveling the country and recreating the same photos his grandfather, Herb Connellan, took.
Just yesterday, we introduced you to Cai Guoqiang, a China-based artist who put on a spectacular fireworks display to honor his grandmother on her 100th birthday.
If you don't think you can pull of a pyrotechnic spectacle in the sky to honor one of your grandparents, then you should take notes from Carollo!
Check out the photos below for a closer look.
Christian Carollo was looking for a unique way to honor his grandfather, Herb Connellan.
That's when he created "Past Present Project," a photo series where Carollo recreates old photos his grandfather took before he died in 2008.
The best part about the series? Carollo gets to travel to each destination his grandfather went to when he originally snapped each photo!
Since 2012, Carollo managed to travel nearly 20,000 miles within the United States.
He went everywhere from his childhood home in Telford, Pennsylvania...
...to the White Sands Visitor Center in New Mexico.
Carollo stays within the United States.
So, all of the places he travels to are easily accessible by short flights or car rides.
It's so interesting to compare a picture of a place when it was visited back in the 1970s with a picture of the same place when it was visited in the 2010s.
Not much has changed, except maybe the air quality!
Carollo, who works as a customer service manager, has dedicated time to the "Past Present Project" for a little over three years now.
And to think Carollo's grandfather visited every single one of these places and snapped a photo, too!
Looking for an interesting, fun way to honor your late relatives?
Recreating the photos they took in their early years doesn't sound like a bad idea to me!
So far, Carollo managed to rack up over 3,000 followers on Instagram. Follow him for updates on his whereabouts!
Citations: Photographer Replicates His Late Grandfathers Travel Snaps by Visiting Same Holiday Spots 40 Years Later (Daily Mail)