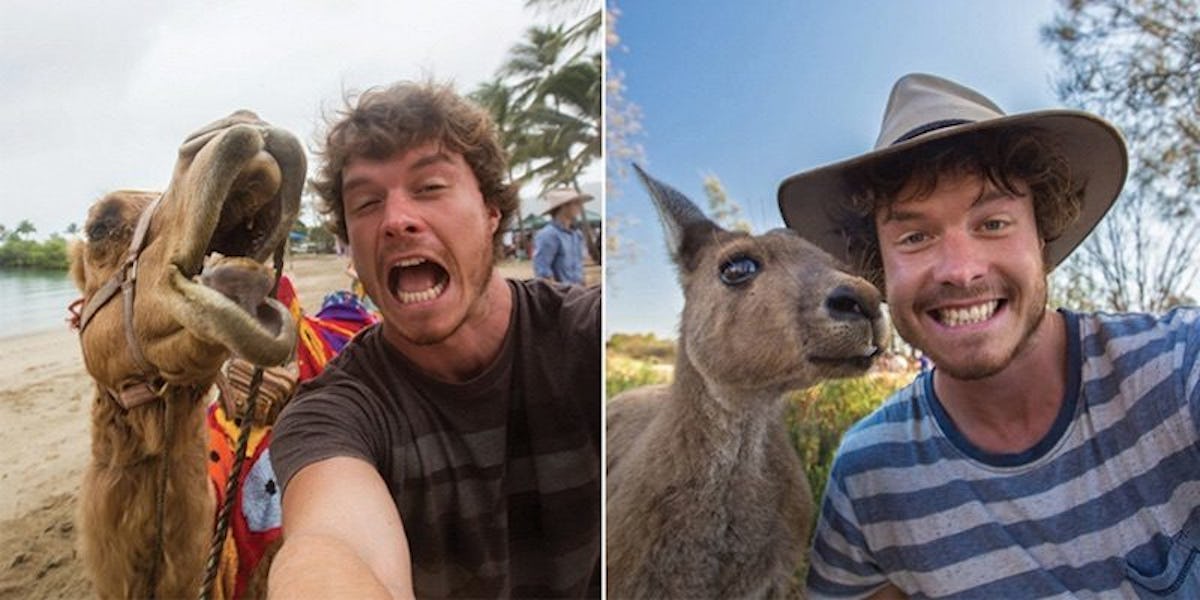 Guy Takes Amazing Selfies With Wild Animals From All Around The World (Photos)
We've all seen our fair share of impressive travel photos on social media.
But when it comes to slaying the selfie game on Instagram, no one does it better than Allan Dixon.
Dixon is an adventurous 29-year-old from Ireland who is basically an animal whisperer with a serious case of wanderlust.
Therefore, it should come as no surprise Dixon manages to capture all sorts of adorable selfies with wild animals as he travels to a variety of stunning places across the world.
Yep, it's not hard to see Dixon has his animal selfies down to a seriously cute science.
He recently talked to Bored Panda about the process of scoring one of these badass pics. He said,
[A selfie takes] anywhere between five minutes to three hours of being in the animal's presence. It depends on the animal and how safe it feels.
He continued,
What the photos don't show is the amount of dirt that ends up on my clothes because of being on the ground. But the results are worth it.
Take a look at the pictures below to see his amazing photos.
Meet Allan Dixon.
Dixon isn't your ordinary 29-year-old dude from Ireland.
This guy has a serious gift for taking selfies as he travels across the world.
Animal selfies, to be exact.
Yep, many people consider Dixon to be a modern-day Dr. Dolittle...
...thanks to all the impressive animal selfies he posts on his epic Instagram account.
When he's not horsing around on his trips abroad...
Or busy recreating scenes from "Lady and the Tramp" with his feathered friends...
You can find him getting down with the local wildlife...
...and convincing all sorts of cute critters to smile for the camera.
So far, we've seen this guy conquer everything from kangaroo selfies...
And photos with delighted donkeys...
To snapshots with cheerful, little quokkas...
Gleeful-looking goats...
...and even animal photos from under the sea.
If you're trying to get in on the animal-selfie action, Dixon told Bored Panda, "Gain the animal's trust in a calm, relaxed manner and the results will be golden."
And, most importantly, he said, "Make sure it's not a crocodile."
Citations: This Man's Adventurous Animal Selfies Are Making Hearts Explode (Huffington Post)