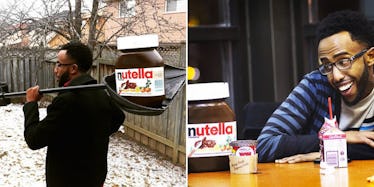 This Guy Might Love Nutella More Than Anyone Else On The Planet (Photos)
Lately, it seems like everyone is pretty crazy about Nutella. But who can blame us?
Nutella is downright delicious; it's pretty much an edible form of happiness that makes every meal a million times better.
And one guy has taken his obsession with this drool-worthy chocolate hazelnut spread to a whole new level.
Meet Wardere. This guy is literally batsh*t crazy about Nutella, and he's not afraid show the world how much he loves this scrumptious spread.
Back in 2012, Wardere discovered this tasty treat, and after polishing off an entire jar of Nutella, he was hooked.
Since then, Nutella has pretty much become Wardere's beloved BFF, and this duo has been documenting all of their adventures on Instagram.
It looks like this tasty twosome is inseparable.
Whether they're hitting up the party scene, getting their sweat on at the gym, taking a few mirror selfies or simply spending a lazy Sunday on the couch, all of their clever pictures look awesome (and delicious).
This is Wardere and his beloved BFF.
Wardere first met Nutella back in 2012.
Things between these two escalated pretty quickly.
In no time, Wardere was absolutely crazy in love with Nutella.
These two document all of their awesome adventures on Instagram.
From swinging in the park on a winter evening...
...and playing a little ping pong...
...to staying in on a Friday night and watching Netflix...
...these two are pretty much inseparable.
It was love at first spoonful.
Whether they're recreating "Fifty Shades of Nutella"...
...or getting wrapped up in a little Halloween fun...
...it's pretty obvious Wardere has the hots for this delicious spread.
Whether he needs someone to hold his hair back while he's puking up green beer on St. Patty's Day...
...or his car needs a little boost, Wadere can always count on Nutella to jump in and save him from a sticky situation.
Plus, Nutella likes to party just as hard as Wardere.
And Nutella gets those 2 am drunchies just as bad as Wardere.
These two aren't afraid to perfect that downward jar pose.
They can even pump some iron while taking a few tantalizing mirror selfies.
These two totally woke up like this. #delicious
A love this strong should literally be a crime.