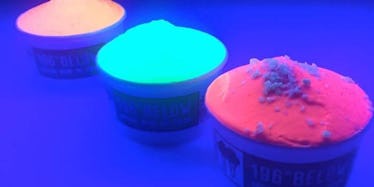 Glow-In-The-Dark Ice Cream Exists, And It Was Inspired By Raves (Photos)
There's nothing better than getting the family together and going out for ice cream on a warm summer night.
But trying to eat an ice cream cone in the dark can sometimes get a little messy.
To solve the problem (and create a seriously rave-worthy dessert), Melbourne-based scoop shop 196 Below created cool, glow-in-the-dark ice cream.
This innovative ice cream parlor is already known for making its ice cream with liquid nitrogen, and now it's added this bright idea.
That's right, you can now get your favorite frozen snack in a glowing, fluorescent form made with "UV-reactive liquid coloring."
This bright treat comes in three mouthwatering flavors at the moment, including pine-lime, mango-passionfruit and a raspberry flavor called redskin.
This epic glowing ice cream is also vegan (dairy-free) and contains no preservatives.
So how exactly does one come up with the idea to give ice cream a beaming new identity?
Well, according to 196 Below's co-owner Steve Felice, the idea for this crazy ice cream came about while he was reminiscing about his days as a raver.
In a recent interview, he told Daily Mail,
I used to be a dance party child in the 1990s and early 2000s and I used to make party clothes out of neon material.
This inventive ice cream looks insanely awesome, and although it might remind you of some sort of dangerous radioactive substance that could turn you into a mutant superhero, Australia's Therapeutic Goods Administration promises it's safe to eat.
Plus, with this badass treat, you'll finally be able to chow down on a night-time cone without having half of it end up on your shirt.
Check out the pictures below to see this awesome ice cream.
Glowing ice cream is real, and it comes in three deliciously fluorescent flavors.
There's a beaming raspberry flavor...
...a phosphorescent mango-passionfruit flavor...
...and a glowing pine-lime flavor.
Eating ice cream at night will never be the same.
Citations: This Glow In The Dark Ice Cream Was Inspired By A Rave (Huffington Post)