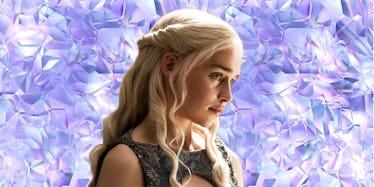 This New 'Game Of Thrones' Jewelry Will Turn You Into The Mother Of Dragons
Shutterstock/HBO
Like most of my fellow fans, I'm pretty bummed that this season of "Game Of Thrones" is already over.
However, there are all sorts of things you can do to tide yourself over until the next season rolls around in 2017.
Yep, you can pack your bags and go on a journey through the cities of Westeros IRL, become a Mother of Dragons with some hatching dragon egg candles or, you know, embrace your inner Khaleesi with some cool AF dragon jewelry from the show.
That's right. MEY Designs just released a new line of jewelry inspired by none other than the baddest blonde in all of the Seven Kingdoms, Daenerys Targaryen.
Michele Clapton, a "Game of Thrones" costume designer and jewelry designers Eliza Higginbottom and Yunus Ascott are the masterminds behind MEY Designs and, I have to say, this Khaleesi-inspired collection is pretty amazing.
The jewelry line features 20 hand-carved, sterling silver accessories "seen on and inspired by the hit HBO series" and includes everything from fire-breathing necklaces and winged bracelets to scaly rings and dragon egg earrings that are guaranteed to make you look like a flawless Queen of Meereen.
However, if you're looking to dress like a true Mother of Dragons, you better hope that you have the same assets as a royal queen, because wrapping one of these bad boys around your neck doesn't come cheap.
These mythical pieces start out at $95 for an armor ring and go all the way up to $2,730 for Daenerys' opulent Drogan neck "sculpture."
Plus, you'll also have to be a little patient since it will take about 14 weeks for your precious jewelry to arrive.
But hey, if you ask me, looking like a glorious Khaleesi in real life seems totally worth it.
Check out the pictures below to see this incredible "Game Of Thrones" jewelry.
If you've been searching for a way to embrace your inner Daenerys Targaryen, look no further.
MEY Designs just released a stunning new line of jewelry...
...that will make you look like the fiercest fashionista in all of the Seven Kingdoms.
This eye-catching Khaleesi-inspired collection includes a variety of hand-carved, sterling silver pieces inspired by the hit HBO show.
You can rule the style scene by wrapping some dragon wings around your neck...
...or pay tribute to the Mother of Dragons with a precious Dragonstone pendant.
Rock some fire-breathing bangles inspired by the Queen Of The Andals...
...or deck your Dothraki digits out in some unburnt accessories fit for a true ruler of the Iron Throne.
Citations: New 'Game of Thrones' jewelry line gets us a little closer to being Khaleesi (Mashable)