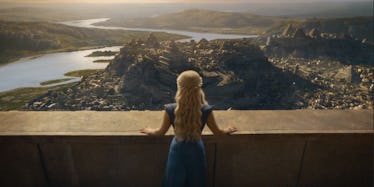 15 Cities You Should Travel To While Waiting For "Game Of Thrones" To Return
HBO
I happen to be a major "Game Of Thrones" geek. So like most of my fellow "GOT" fanatics, I've often daydreamed about living in the whimsical world of Westeros.
Unfortunately, there's no such thing as ancient cities filled with fire-breathing dragons and faceless men in the real world.
However, that doesn't necessarily mean you have to give up on your dreams of experiencing the Seven Kingdoms first hand.
Yep, while George R.R. Martin's creatures and characters may be fictitious, a lot of the places where HBO brings these stories to life are real locations that you can actually visit.
From cities in Croatia that look like a carbon copy of King's Landing and lush Spanish gardens that double as the palace of Dorne to old Scottish castles that serve as the Stark's Winterfell home, there are all sorts of "Game Of Thrones" filming locations across the globe.
So we set out to find a bunch of "GOT" travel destinations that will cure your Westeros wanderlust once and for all.
Take a look at the pictures below to see some vacation destinations that are perfect for every "Game Of Thrones" fan.
If you're looking to visit King's Landing...
...you can spend a few days exploring Dubrovnik, Croatia.
You can stare up at the Great Sept of Baelor....
...by stopping by the great city of Girona, Spain.
Or you can see The Iron Islands IRL...
...by touring the bluffs of Ballintoy Harbour, Northern Ireland like a true Greyjoy.
If you're looking for a wild time, you can venture beyond The Wall...
...and check out the sights in Iceland's Jökulsárlón Glacier Lagoon.
See what the Starks are up to in Winterfell...
...by scoping out the scenes at Doune Castle in Stirling, Scotland.
If traveling down The Kingsroad is more up your alley....
...you can make your way over to The Dark Hedges in Northern Ireland.
Plus, you can stop by Sam's family home in Horn Hill...
...by going to Castell de Santa Florentina in Barcelona, Spain.
If you're looking to fight for your Queen, you can explore the fighting pits of Meereen...
...by visiting Plaza de Toros in Osuna, Spain.
Why not stroll through the ornate gardens of Dorne...
...by taking a tour of The Alcazar in Seville, Spain?
You can go on an epic adventure in Astapor...
...by exploring the seaside city of Essaouira, Morocco.
Plus you can take a journey to Vaes Dothrak...
...by trekking through the Mourne Mountains in Northern Ireland.
If you're dying to experience the city of Qarth...
...you can go see the real deal in Lokrum Island, Croatia.
You can venture to the Long Bridge of Volantis...
...by strolling along The Roman Bridge in Córdoba, Spain.
If you're down to see where Khaleesi and Khal Drogo tied the knot in Pentos...
...you can take a trip to the Azure Window in Malta.
Or you can show the Mother of Dragons some undying love...
...by checking out Minceta Tower in Croatia.