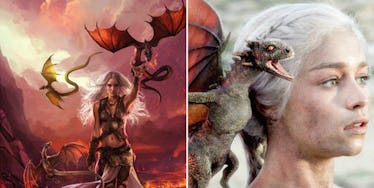 This Is How 'GOT' Characters Look In The Books Versus On TV (Photos)
If you're obsessed with HBO's "Game of Thrones," then chances are you can easily put a name to each character's face.
But, have you ever wondered how well the "GoT" cast members you see on television measure up the original characters from George R.R. Martin's books?
Thanks to Magali Villeneuve, you no longer have to wonder.
Recently, this talented "GoT" addict created a series of illustrations accurately depicting all of your favorite Westeros characters based on how Martin describes each of them in his literature.
While HBO was pretty spot-on with casting the show, you'll be surprised to see how different some of the TV versions look from their fictional counterparts.
But don't worry, Tyrion is still an imp, the "Red Woman" still looks like an evil bitch and your beloved Khaleesi is still the smoking hot blonde who has a bunch of fire-breathing dragons.
Take a look at the photos below to see how the "Game of Thrones" characters look in the books versus on the TV screen.
Daenerys Targaryen
Stannis Baratheon
Bran Stark
Brienne of Tarth
Cersei Lannister
Daario Naharis
King Joffrey Baratheon
Jon Snow
Lord Petyr "Littlefinger" Baelish
Melisandre aka the "Red Woman"
Ned Stark
Oberyn Martell
Robb Stark
Ser Davos Seaworth
Syrio Forel
The Hound
The Iron Throne
Theon Greyjoy
Tyrion Lannister
Tywin Lannister
Ygritte
Citations: Hereu2019s How Game of Thrones Characters Compare in The Book Vs. The Show (The Roosevelt)