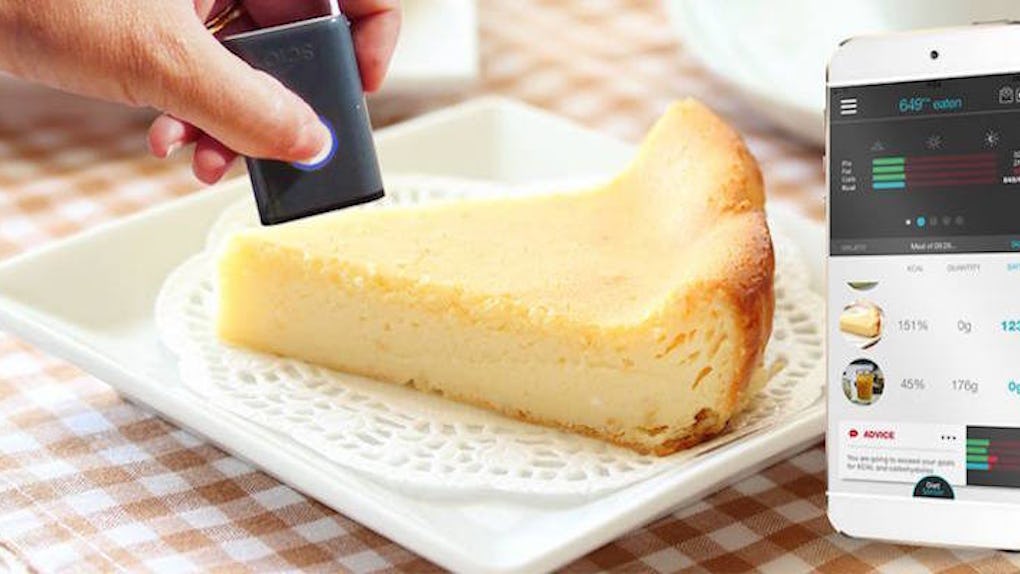 Facebook
This Genius New Device Tells You Exactly How Many Calories Are In Your Food
Diet-tracking apps are awesome ways to keep your eating in check.
However, if you ever used one of these apps, you know it can, sometimes, be pretty difficult and annoying to figure out exactly how many calories are in your food.
But luckily, calorie counting is about to get a whole lot easier, thanks to an awesome new invention.
Say "hello" to SCiO, an innovative handheld device that scans your food and unveils all of the nutritional information hiding inside.
If only these things were around back in the day when Regina George simply wanted to know if butter was a carb.
Now, you're probably wondering, how exactly does this thing work?
Apparently, this clever gadget uses a molecular light sensor to identify the chemical makeup of food and provide you with information such as calorie count, carbs and fat content, and then, it delivers all that information right to your smartphone.
But, that's not all. This thing also has an accompanying app to keep track of your eating habits, and it's basically like having a nutritionist who gives you diet advice right in your pocket.
Take a look at the photos below see this amazing food-scanning invention.
Counting calories is about to become a lot less challenging...
As an ethical superfund, Australian Ethical only invests in clean, green, and ethical practices that seek to support... Posted by DietSensor on Monday, February 22, 2016
...thanks to SCiO, an incredible new invention that scans your food and tells you exactly what's in it!
DietSensor is one of the first companies creating a usage of Personal Sensors: those devices able to measure our... Posted by DietSensor on Wednesday, December 2, 2015
The device contains a molecular light sensor to uncover the chemical makeup of food and deliver nutritional data such as calories, carbs and fat content right to you smartphone.
Posted by DietSensor on Friday, November 6, 2015
Plus, this device is also compatible with an app called DietSensor, which monitors your eating patterns and even gives you diet advice.
Posted by DietSensor on Tuesday, November 10, 2015
You can snag one of these scanners for $249, plus the monthly subscription for the app, when the devices debut sometime this year!
What Guilty Pleasures You Can Eat Based Off Your Recent Work OutThe guilty pleasures you can eat based off your recent work out ... Posted by Elite Daily on Monday, January 11, 2016