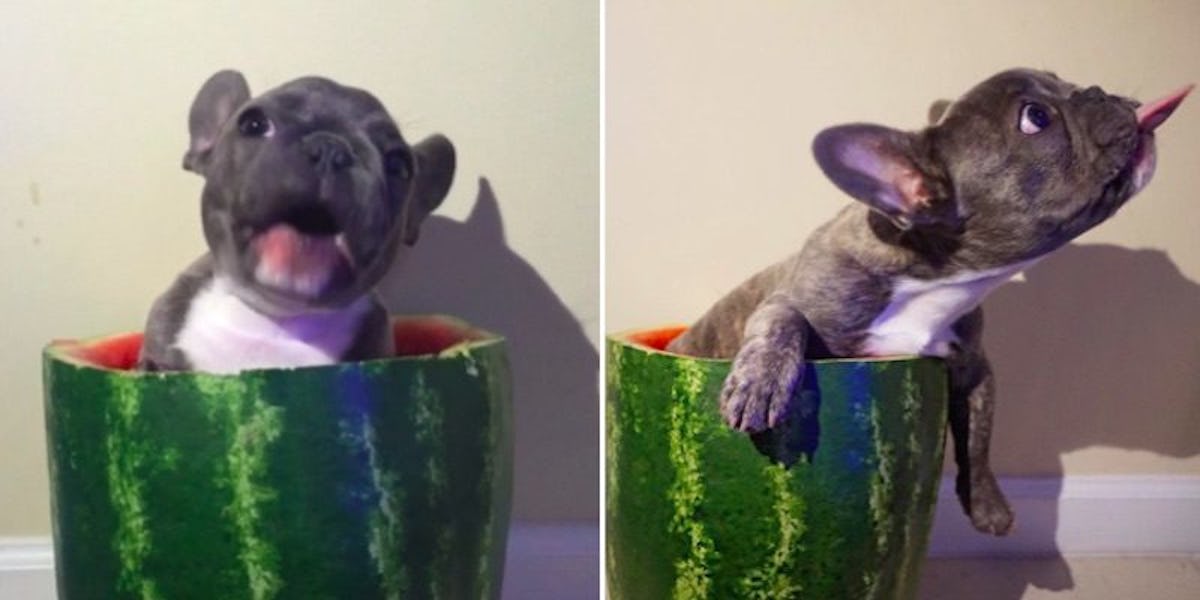 This French Bulldog Chilling Inside A Watermelon Is The Cutest Thing Ever
If you're feeling a bit down today, there are lots of things you can do to cheer yourself up.
For example, you can listen to some feel-good tunes that are prefect for spring, drool over some hot men eating hummus or get a little pick-me-up by staring at a puppy sitting in a watermelon.
Yep, that's right. We recently came across a short Instagram clip that features a delightful little dog just casually chilling out in everyone's favorite summertime snack likes it's NBD.
But little does this pup know, it actually is a really big f*cking deal, because this fruit-loving Frenchie might just be the cutest thing that ever happened to eating a healthy snack.
Apparently, this playful puppy named Rolex hails from Florida, and it's not hard to see he pretty much has no shame when it comes to enjoying his food to the fullest.
In the adorable video, you can see Rolex go straight to hungry-hound heaven as he munches away on the inside of this huge watermelon, and just when you thought he couldn't possibly get any cuter, he basically makes all of our hearts explode by falling out of it at the end of the clip.
Check out the video for a closer look at this precious pup.
Say "hello" to Rolex.
This lovable French Bulldog lives in sunny Florida...
...and is always down to enjoy a healthy snack.
However, this fido's favorite food is watermelon, and apparently he loves it so much, he actually prefers to sit inside of it while he eats it.
That's right. Rolex's owner recently posted a video that shows this precious pup chilling out in a gigantic watermelon as he chews away on the inside of it, and this sweet scene is so delightful it will bring tears of joy to your eyes.
But the cuteness doesn't end there.
It turns out, this pup constantly does all sorts of insanely adorable stuff on the reg.
His doggy ensembles go way past wearing giant watermelons...
...and don't even get me started on his precious puppy eyes.
I mean, seriously, just look at this lil' fella.
It should basically be illegal to be this damn adorable.
Citations: It's a dog's life: Adorable video of French Bulldog puppy sitting inside a watermelon eating it will melt your heart (Daily Mail)