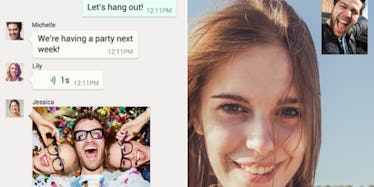 Fastest Messaging App In The World Offers Voice And Video Calls For Free
SOMA Messenger
Out of the over one million apps that make up Apple's App Store, there are quite a few hidden gems yet to be discovered.
Whether you're looking to book a flight on a private helicopter with the BLADE app or you're simply looking to live stream your whereabouts using Periscope, the possibilities are endless in the world of mobile apps.
But, is there an app that allows users to create group chats with up to 500 people? Now, there is!
It's called SOMA Messenger, and it allows users to connect with others using high-definition quality voice and video calls -- without having to buffer them.
The app is perfect for personal use, professional use and community building.
Not only is the user interface incredibly smooth, but the ad-free environment makes it even more of a pleasure to use.
The best part? SOMA is absolutely free -- even when you're making international calls!
In a recent press release, Lei Guo, the founder and CEO of SOMA Messenger, revealed,
We believe that the best things in life are free, and communication should be, too.
It's hard to argue with that!
Not to mention, SOMA's ability to provide servers all around the world makes it the fastest messenger app to date.
Aside from product quality, one of the app's main focuses is perhaps the most important focus of all: security.
Guo said,
Those that succeed are going to win on quality, speed and security. SOMA Messenger delivers on all of that and more.
Available on iOS and Android devices, SOMA Messenger offers secure data encryption using both 2048-bit RSA and 256-bit AES. This ensures each user's utmost privacy.
In other words, you're in great hands.
So, what are you waiting for?
Check out the screenshots below for a closer look!
Tired of the long buffer times, excessive ads and hidden charges other messenger apps offer? Download SOMA Messenger.
SOMA is completely free, and it's also faster than any other messaging app out there.
Whether you're placing a voice call or a video call, SOMA ensures it's in HD quality, and you won't have to wait for it to buffer.
And did I mention each user has the ability to host a group chat supporting up to 500 people? SOMA makes communicating effortless!
Citations: SOMA (SOMA App)