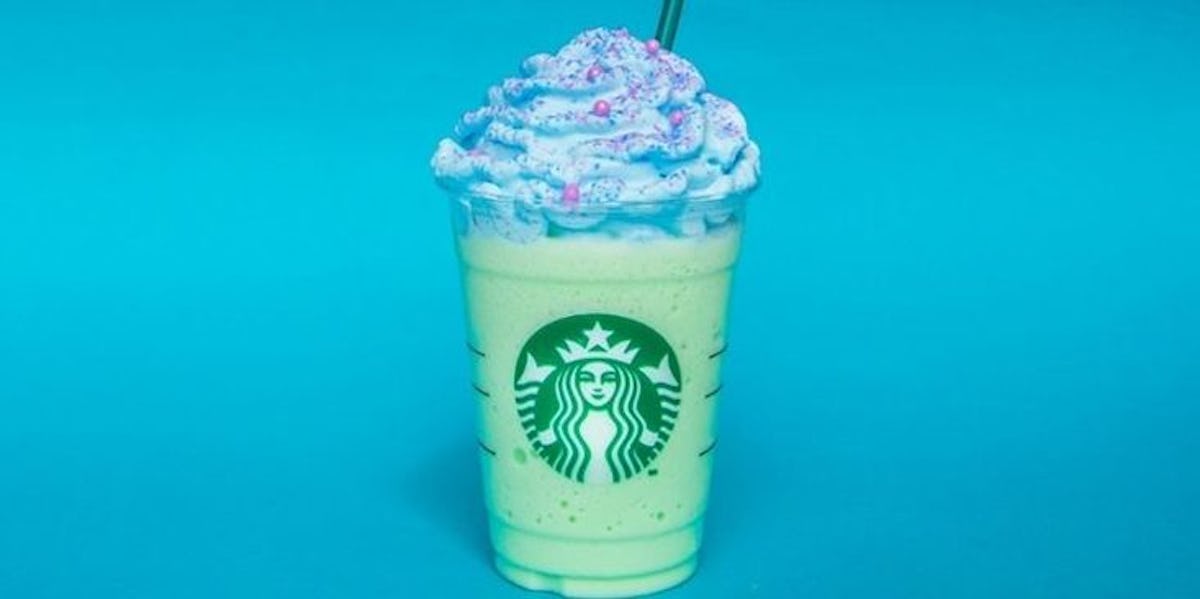 Starbucks' Official Mermaid Frappuccino Is Here, But It Might Be Hard To Get One
Starbucks
Oh, you thought Starbucks would end its mythical drink selection at the (sort of controversial) Unicorn Frappuccino? Well, they didn't. The genius coffee chain has officially come out with a — get this — Mermaid Frappuccino. Your next question is probably, "Where can I buy Starbucks' official Mermaid Frappuccino?" And therein lies the catch: It's only available in Mexico!
There, there. Let out your mermaid sobs, everyone who doesn't live in Mexico.
Starbucks announced the new mer-beverage (on brand when you consider the green siren logo on all their products) in a press release. Apparently, it will be available at Mexican locations beginning Thursday, Aug. 24.
So, what's in it?
Disclaimer: This is not the same thing as the much-talked-about "Narwhal" frappuccino from the secret menu that many considered mermaid-esque. No, no. The real Mermaid Frappuccino is reportedly made with a green melon crème base and topped with blue whipped cream, blue and pink sugar crystals, and pretty iridescent edible pearls.
I mean, my inner mermaid being approves of this refreshing-sounding drink — IDK about yours. Not to mention, all the beautiful colors will make for one stunning Instagram post.
As for why it won't make it to the U.S., Starbucks said in their press release,
Unfortunately, the ingredients used to make the Mermaid Frappuccino are not available in Starbucks stores in the U.S.
Life, my friends, isn't always fair.
Even so, the Mermaid Frappuccino is limited edition.
Here's where I should probably warn everyone with access to the Mermaid Frappuccino that it is limited edition. Actually, super duper limited edition. As in, according to Cosmopolitan, it'll apparently only be available for one week.
Quick: Go try this beauty and report back with how amazing it tastes IRL! I'll be lurking on Instagram from NYC, waiting to see your A+ pictures of it, fellow mermaids.