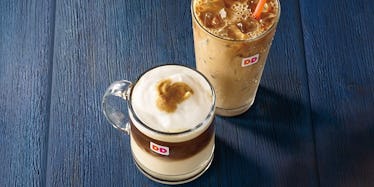 Dunkin' Donuts Pumpkin Coffee Is Coming Back, So Plan Your Mornings Accordingly
Dunkin' Donuts
Dunkin' Donuts is here to remind you that pumpkin mayhem extends far beyond Pumpkin Spice Lattes. The company announced the return of its signature fall flavors in an Aug. 14 press release, and we have good news: Dunkin' Donuts Pumpkin Coffee will be available "no later than Aug. 28." (That's so soon!)
Pumpkin lovers will obviously appreciate the autumnal option from Starbucks' fiercest competitor, which is reportedly thinking about dropping the "Donuts" from its name entirely. But don't think its fall lineup consists simply of one measly brew flavor.
In the same exciting press release, Dunkin' Donuts debuted some new menu items you'll want to taste immediately. As in, after Aug. 28.
There's a new coffee flavor with zero pumpkin affiliation: Maple Pecan.
Is maple the new pumpkin? It's available however you'd like it (frozen, iced, with espresso, etc.), and I imagine taking a sip of this flavor is like taking a sip of maple syrup —  in the best possible way. Expect a sweet taste with obvious hints of nutty pecan and possible waffle cravings.
There's a Maple Sugar Bacon Breakfast Sandwich.
I feel like you can't go wrong with candied bacon on a breakfast sandwich, which leads me to believe that this extra bacon-y one is going to be a winner. It's served on a fresh croissant with egg and cheese. Yum!
There's a Pumpkin Cream Cheese Spread.
For all the pumpkin addicts out there, Dunkin' Donuts is also adding a limited edition pumpkin cream cheese spread to its menu. Ask for a schmear of it on your favorite Dunkin' bread to add an instant taste of fall.
There's a festive fall doughnut.
While it doesn't have maple or pumpkin baked into it, the new fall doughnut was designed to look like it was made for the season with red icing and brown and orange sprinkles.
In addition to these new items, the breakfast brand is also set to bring back its ever-popular Pumpkin Donut and Pumpkin Muffin. And if you can't be bothered to go into a Dunkin' IRL for your coffee, its pumpkin K-Cups and packaged coffees will be available online as well as in stores.
BRB, I'm setting an Aug. 28 alarm.