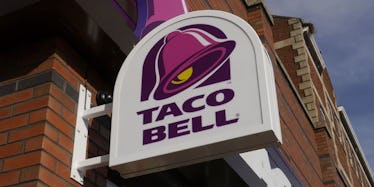 If You Want To Try Spicy Pop Rocks In Your Taco Bell Burrito, Here's Where To Go
Mark Newcombe/REX/Shutterstock
Taco Bell is always trying to change up their menu and keep customers happy. For those of you seeking a burrito that packs a punch (and who happen to reside in California), Taco Bell is testing Pop Rocks in their burritos here. Yes, you read that right: For a limited time only, you can get your hands on the Firecracker Burrito if you visit California.
According to Food Beast, this innovative burrito comes in two different forms. You can opt for the cheesy version, or you can go for the spicy version (if you're feeling brave). Both versions are supposedly wrapped in a red tortilla and are filled with nacho cheese, rice, sour cream, beef, and crunchy red tortilla strips.
Conventional ingredients aside, if you want to kick your Firecracker Burrito up a notch, you can add a packet of Cayenne Popping Crystals for an additional 20 cents. But Food Beast warned readers not to over do it with the crystals as they may make the burrito far too sweet and less enjoyable.
The best part about these burritos is the fact one will only set you back $1.29, and $1.49 with the Cayenne Popping Crystals. The downside is that The Firecracker Burritos will only be available in four Taco Bell restaurants in Orange County, California until Aug. 16.
You can find them at California Taco Bell locations in Santa Ana, Tustin, and Anaheim -- so plan your road trip ASAP.
News of the Firecracker Burritos first broke on Reddit thanks to user Elbore who shared a picture titled "Funky new test item: Firecracker Burrito with Pop-rock topping." There were varying responses from Redditors with some excited to try the new burrito, and others commenting it's a no for them.
Funky new test item: Firecracker Burrito with pop-rock topping from tacobell
My question is, why do all the cool Taco Bell things initially happen in California? First, Lyft began testing TB pit stops in California, and now TB is testing this new burrito in California as well? All I'm saying is if some of these tests don't make it to the East Coast soon, I'm going to be highly upset.