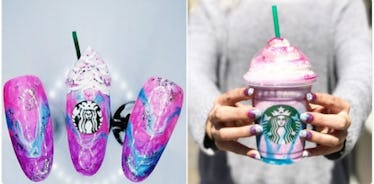 Yes, Starbucks Unicorn Frappuccino Nail Art Is A Thing
AzzuroHair/Twitter
Starbucks' latest limited-time beverage is the stuff of Instagram dreams. I am, of course, referring to the color-changing, flavoring-changing Unicorn Frappuccino that you've probably spotted on your Insta feed at least 100 times over the past several days.
It's caused a frenzy both on and off social media — there have been tales of barista meltdowns all over the nation, and the picture-perfect frappuccino has even been used for a pregnancy announcement. The feedback about how it actually tastes has been, uh, less than stellar.
But if you're chasing that perfect Insta, you're gonna wanna listen up because Unicorn Frappuccino nail art is now a thing and it certainly will make the experience extra magical. (Even if, like Katy Perry, the actual act of drinking the frapp makes you feel as though you're drinking your "own blood.")
Elizabeth Morris of The Nail Hub created hand-painted gel nails to accompany the rainbow-colored drink and they're just as eye-catching as the Unicorn Frappuccino itself.  The nail design uses electric blue, purple, and pink swirls — there's even a whipped topping accent at the center that includes glitter and a straw. And check out that intricate mermaid logo!
Based on the reactions to The Nail Hub's Instagram post, people seem to prefer the nail art to the drink itself. (Sorry, Starbucks.)
"I tried it. Will stay w/ unicorn themed nails," one user commented.
Sure, the Unicorn Frappuccino may put you in a sugar coma that won't let up — but you've gotta admit that the combination of the colorful drink and that magical nail art is a sight to behold.
To the relief of beleaguered Starbucks baristas everywhere, the Unicorn Frappuccino will be off the menu on April 23. If you want to give it the proper sendoff, this nail art definitely does the trick. Or you could go with the hairstyle inspired by the frappucino — really, the possibilities are endless.
Citations: Unicorn Frappuccinos Inspire Starbucks Barista Meltdowns Across America (Eater), Woman Reveals Pregnancy With A Unicorn Frappuccino (Refinery29)