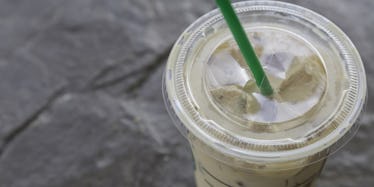 I Tried Starbucks' Iced Cascara Coconut Milk Latte And It Was Summer In A Cup
As most of you may have already heard, Starbucks released yet another line of coffees and iced teas to refresh your summer months on Tuesday, July 11.
The new line consists of Teavana Shaken Iced Tea Infusions (available in Pineapple Black Tea, Iced Strawberry Green Tea, and Iced Peach Citrus White Tea), an Iced Coconut Milk Mocha Macchiato (which was originally released in 2016), and a brand new Iced Cascara Coconut Milk Latte.
All of these new drinks are solid options, but because I'm obsessed with everything coconut, I decided to pass by my local Starbucks and pick up the Iced Cascara Coconut Milk Latte.
I'm not much of a sweet drink kinda gal, so I was a little apprehensive about trying this drink. I had also never had cascara in my coffee before, and I was afraid it would be too light -- but boy was I pleasantly surprised.
Not only is the Iced Cascara Coconut Milk Latte a vegan drink (thank you coconuts!) it also lends itself to be the perfect summer treat.
With the mild, yet bold taste of the cascara extract, and the summery, yet refreshing taste of the coconut milk over ice, you won't feel like you're commuting to the office. In fact, it'll be more like you're on your way to a tropical vacation.
Aside from the drink's great taste, the Iced Cascara Coconut Milk Latte is super light and low on calories.
I opted for a tall since it was my first time trying the drink, and I definitely wasn't disappointed.
The verdict? I would totally recommend the Iced Cascara Coconut Milk Latte to anyone who likes refreshing coconut-flavored bevs.
It's super light, great for those avoiding dairy, and awesome if you want to escape reality and feel like you're on vacay... if only for a little while.