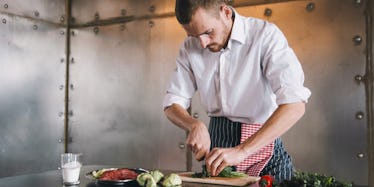 World's Top Millennial Chefs Reveal Easy Dishes They Make At Home
Think you're too busy to cook?
Seriously over-accomplished chefs – the world's best under 30, according to the S.Pellegrino Young Chef competition – work six days a week, 15 hours a day at restaurants.
They're chopping, slicing and recipe developing, only to have one day a week – if they're lucky – to relax.
Oh, and they also have to do laundry and all those other chores adulting requires.
Somehow, on top of it all, they still have time to cook... at least on occasion.
I spoke to some of the best young chefs around the world to get a sneak peak into their home kitchens.
Here's what's cooking:
Gakusei Kaikan, Japan
I live with my parents, so I don't cook at home often. I like making and eating my mom's Japanese home cooking: curry and rice with stewed potatoes and beef.
– Seira Furuya, 27
Paris, France
I make food to share... salad, fish, meat, anything you can roast.
-- Shintaro Awa, 29, Restaurant Epicure
Copenhagen, Denmark
Pasta! I make it a different way every time but I love pasta with cream and bacon, fresh parley, a lot of lemon and fresh ground pepper.
– Nikolaj Schmidt Skadborg, 29, Restaurant Sletten
Athens, Greece
I'm never cooking at home, but when I do, it's pasta with tomatoes, cheese, olive oil, garlic and basil. I'll add salted local cheese from Greece, but sometimes Parm.
– Nikolas Billis, 29
I'll make a simple salad with green vegetables, olive oil, lemon juice and some bread. Because I'm French, it's not a meal without bread.
-- Olivier Campanha, 36, F+W
Barcelona, Spain
I'll make a Caprese salad or pan con tomate (Spanish toast with grated tomato)… I really just love all types of cheese.
-- David Andrés, 29, ABaC Restaurant
Salach, Germany
At home, I like to cook Maultasche – a rolled, filled noodle with beef, onion and parsley – and combine it with potato salad, beef and deep fried onion. It's like a German ravioli, and takes maybe an hour to make.
-- Matthias Walter, 28, Burgrestaurant Staufeneck
Dubai, United Arab Emirates
My wife cooks. I love the couscous [she] makes. Chefs will tell you they're making pasta, or they go out.
– Gregoire Berger, Restaurant Ossiano Fine Dining
Auckland, New Zealand
Pasta with olive oil and salt.
– Leslie Hottiaux, 29, Apero Food & Wine
New Delhi, India
Chicken and rice. I'll make an authentic Hainanese boiled chicken by boiling the chicken with chicken fat, stock and pandan leaf, and cook it all together.
– Tarun Bhatia, Ek Bar
Calgary, Canada
Tacos and guac. I braise pork shoulder all day to make a ragu and will have some chips with my guac. If I'm trying to be healthy, I'll put a chicken breast in the oven.
– Sean MacDonald, MARKET Restaurant
Shanghai, China
Chinese food. I'll see what fresh vegetables and fish are available at the market that morning and freestyle it… I work 15-hour days so I like to grill because it's easy. And I like making food with fire! No sous vide, no, I want to barbecue on fire.
– Chang Liu, Jing An Shangri-La Hotel
Los Gatos, California
If I do cook at home, I make pasta or roast chicken. I'll brine the chicken and dry it overnight in the fridge, leaving it covered so it loses moisture in the skin and gets crispier. I stuff it with herbs, garlic, lemon, and then roast it at a high heat, going in and out quite often to baste the chicken with butter. For a quick meal, rice. I eat so much rice, I should be Japanese.
– Mitch Lienhard, 29, Manresa