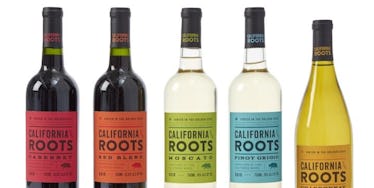 A Store You Love Is Selling $5 Bottles Of Wine And We're So Ready To Stock Up
Target
It's already happening: The temperature is going down, and the sun is setting earlier in the evening. You can't deny the fact fall is inching its way closer and closer -- but rather than fight it, just let the change of season take place. In fact, there's no better way to celebrate the occasion than to indulge in a little vino during a cozy movie night. Binge-worthy shows and a glass of wine? Just what the doctor ordered (sort of). Now that Target launched a cheap wine line, California Roots, you can bring the West Coast to your next girls' night in, no matter your location. That's right: Target is selling $5 bottles of wine in September.
Beginning Sept. 3, Target's exclusive $5 selections will be available nationwide. The offerings include chardonnay, pinot grigio, moscato, cabernet sauvignon, and red blend, so there's an option for everyone, no matter their preferences. You know you're going to want to add these babies to your shopping cart on your next Target run between trips down the makeup aisle and fitting room visits.
"We're out to give our guests even more reasons to love Target — including exclusive products they can't find anywhere else," Jeff Burt, senior vice president of food and beverage at Target said in a statement. "And we think they're going to love California Roots. These wines are just the right blend of incredible quality and amazing value."
No need to tell us twice, Target.
As an added bonus, wine does offer the chance for you to enhance your creativity, so while you're in the middle of a scary movie fest that's accompanied by some chardonnay, you might suddenly have the perfect inspiration for an autumn DIY activity. If you're not feeling particularly inspired, you can always use the chance to refill your glass as an excuse to skip the scariest scene of the movie, so it's a win-win.
Enjoy your California Roots wine party.