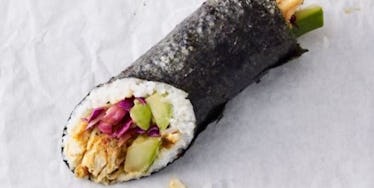 Starbucks Released Sushi Burritos And Twitter Doesn't Know How To Feel About Them
Starbucks
A sushi burrito is one of the trendiest collaborations to hit the food scene. It offers the best of both worlds, so choosing between avocado rolls or a sandwich is no longer an issue. Now, America's favorite coffeeshop is getting in on the hype (yes, coffeeshop). Starbucks sushi burritos have made their debut, and customers aren't exactly sure what to make of this new menu item.
The latest offering — which seems to have overshadowed talks of the Pumpkin Spice Latte, if only for a moment — is a Chicken Maki Roll with tomatillo salsa, lime crema, avocado, and crispy onion, cucumber, pickled cabbage, and shredded chicken, all brought together with nori. It's really a perfect fusion between sushi and Mexican food. For those who are looking to give it a whirl, it's part of the Mercato lunch menu.
However, before you head to your local Starbucks, there is a catch. As of right now, the Chicken Maki Roll is only available at select stores in Chicago: LaSalle and Monroe, and 35th and State. Those the Windy City spots first offered the new treat, and there's definitely the potential for the Chicken Maki Roll to makes its way to other locations around the U.S.
Some customers are pretty excited about giving these babies a try.
Others, however, are a bit skeptical of the Chicken Maki Roll.
If you're not quite certain what to make of this sushi situation, let me reassure you that you're about to get hit with all pumpkin everything, so no need to fret. Pumpkin Spice Sauce has just hit the scene, and it'll make you even more excited for fall than plaid shirts, scary movies, and apple picking combined. Our beloved Pumpkin Spice Latte return is still under the radar, but the sauce's Sept. 5 release will leave you satisfied for the moment.
Time will tell if the Chicken Maki Roll will be a permanent staple across the country, but one thing's for sure: the PSL still reigns supreme.