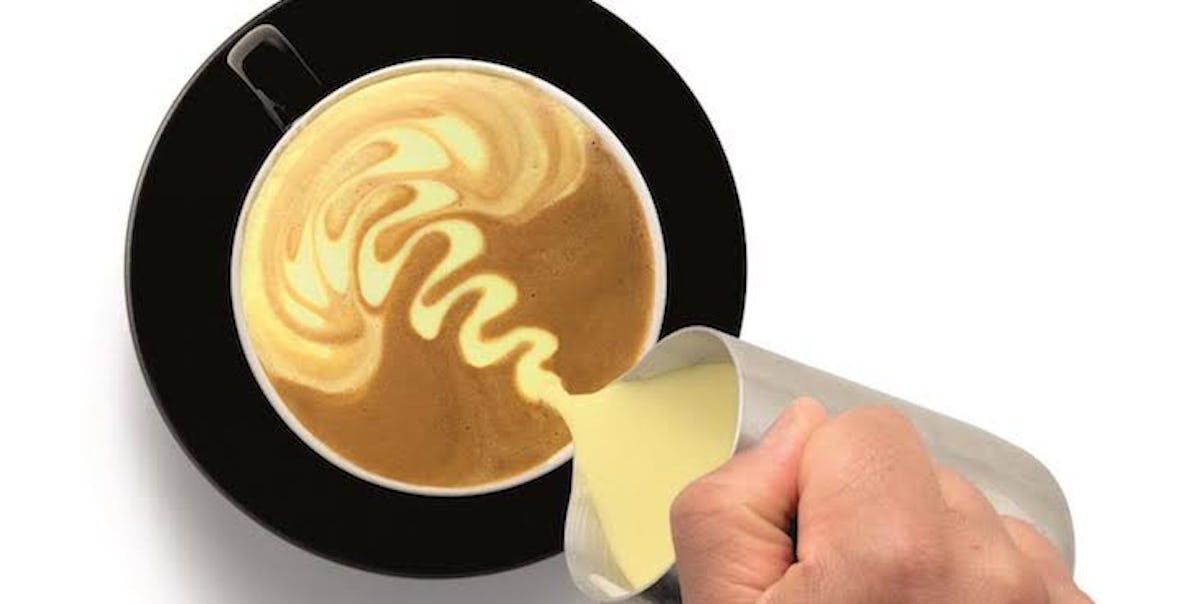 Starbucks' New Turmeric Latte Is Stealing PSL's Spotlight, But It's Gorgeous
Starbucks
In the slight chance you haven't heard, everyone has Starbucks' Pumpkin Spice Latte on the brain. The moment the temperature dips, customers are swooped up in the pumpkin craze and in search of a cozy sweater. This puts a ton of pressure on the company to stay on trend (those pumpkins and unicorns are a lot to compete with, after all). In an effort to unveil coffee's new go-to favorite, Starbucks' Turmeric Latte is available for those looking for a new regular.
The Turmeric Latte — complete with steaming milk, aromatic turmeric powder, spices, and a splash of espresso — just hit stores in London, and coffee lovers can only hope that the drink makes its way to the U.S. soon. Between the unknown release date of the PSL and not having access to Turmeric Lattes, things could get ugly in the States. The fact that the treat promises to be Instagram-worthy will definitely make people jealous.
Another added bonus to this new menu item is the health benefits. Turmeric is known for anti-inflammatory and antioxidant properties, according to Grub Street, and it's even believed to help fight certain infections and cancers, though some are dubious about those abilities. So while it's a trendy take on a popular item — one that will definitely earn a lot of likes on social media — the drink also goes a step beyond a food fad.
For those who cannot catch a redeye to London, take comfort in knowing that everyone is patiently waiting for the PSL's arrival. It's not just you. One web developer got so caught up in the craze he even made a tracker for Pumpkin Spice Latte season's arrival (though no one knows for sure when the drink will make its 2017 debut).
Oh Starbucks, you certainly know how to keep thirsty customers hanging onto the edge of their seats! Send the PSL and TL New York's way. Please and thank you.