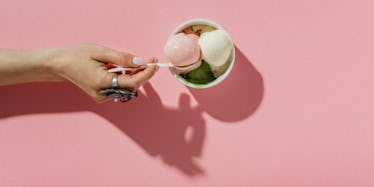 New Rosé Ice Cream Is The Perfect Boozy Dessert For Your Next Girls' Night In
Tatjana Ristanic
Chips and dip are so passé when you have the option to indulge in rosé ice cream.
The boozy dessert is set to become a staple in all girls' nights going forward, so now you have the key to a successful night in. You're welcome.
A California-based ice cream shop called Smitten Ice Cream thought outside the box and decided to combine our favorite drink and our favorite dessert, and we certainly applaud its inventiveness.
The shop's signature ice cream base is combined with Scribe Winery's Una Lou Rosé to create Sonoma Rosé, and this mix is what sweet dreams are made of.
According to Cosmopolitan, the rosé-flavored dessert has an ABV of 3.5 percent, which means a scoop or two will definitely do the trick.
As an added bonus, there are hints of grapefruit and strawberry in each scoop, so your tastebuds are going to be extremely pleased.
For those of you not in California, Goldbely will ship five pints anywhere in the U.S., but it'll cost you ($109 to be exact).
East Coasters can take comfort in the fact that they also have the option to add a little pink wine to their sundaes thanks to the "barlour," Tipsy Scoop.
Remember when we ranted and raved about the booze-infused desserts? Well, coming this July, Tipsy Scoop will offer Peach Frose Rosé in honor of National Ice Cream Month, and we're ready to start the celebration.
"Rosé is the drink of the summer, and frosé even more so now. We are so excited to create this beloved drink into a seasonal sorbet sundae that is as pretty as it is delicious and boozy," Melissa Tavss, Tipsy Scoop founder, told Elite Daily.
Again, for those of  you ice cream and rosé lovers who cannot get to New York, Tipsy Scoop will send treats your way.
It's safe to say our favorite pink drink is having a moment, and you certainly won't hear any complaints from us. If you're more inclined to treat yourself to some chocolate, or perhaps a doughnut or cupcake, there is a rosé-flavored treat for you. Those with a sweet tooth will want to check out Sugarfina's rosé gummies, because it's the treat that will make Willy Wonka go berserk.
This time of year is the perfect opportunity to enjoy a light-flavored wine like rosé, and naturally, its beautiful tint just screams "summer."
We hope your next girls' night is as sweet as your treats.