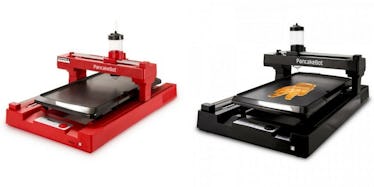 This Pancake Designer Is About To Make Breakfast In Bed So Much Prettier
PancakeBot
Sometimes making pancakes can get a little messy and... uneven. Like, it's really hard to achieve the perfect shape. Though there's a whole community of pancake artists making viral breakfasts out of hand-squeezed batter, we can't all be #blessed with said breakfast artistry. That's why the PancakeBot digital pancake designer is so appealing.
After a successful start on Kickstarter, the PancakeBot is officially available to purchase on Storebound for $299.99 and Amazon for $359.99. And it's worth that price tag, trust me.
What Is It?
The PancakeBot is basically a 3-D printer for pancakes — no, I'm not kidding. You can upload your very own designs or photographs using an SD card and the machine will literally do the rest for you, including squirting the batter onto a built-in griddle. All you need to do is flip it to cook the other side.
Cleanup is also really easy. After your masterpiece is done printing (cooking?), just wipe the cooktop clean and rinse the batter bottle.
If you're not the best pancake artist, the company has its own software and tutorials for you to follow along with until you get the hang of it.
As far as batters are concerned, one Amazon reviewer clarified what exactly works best. She said,
Once you learn how you make a great design (there are plenty of designs to download as well as tutorials on how to create your own) you can pick any batter. You do have to thin it down with water or milk and you do have to sieve it (takes an extra 30 seconds) but it doesn't effect the taste. I've used both my family's buttermilk pancake recipe as well as box recipes and it always turns out great.
PancakeBot reviews in general are mixed. As with anything super tech-forward, there are people who claim they can do a better job sans 3D printer. However, I personally think it's extremely cool if you can afford it.
Here, watch it in action, below.
What do you think?