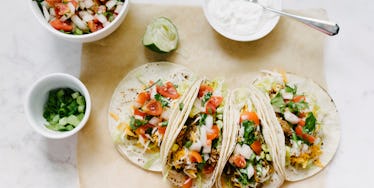 Let's Taco 'Bout The 5 Best Places To Find Tacos In Boston
Cameron Whitman
If you missed National Taco Day on October 4, there's no need to panic.
Because I was and still am currently dealing with a cold that spread through my office, I'm making today my own personal Taco Day. It's a day to celebrate. It's a day to thank all the forces in the world that tacos exist, to unbutton your pants and to scarf down as many mini chicken tacos from Trader Joe's as you possibly can.
In my case, it's also a day to cry over the fact that I've recently developed an avocado intolerance. (I know, I'm basically living in my own personal hell.)
Avocado or no avocado, I still have the right to run around the city and inhale all the crunchy, soft or crunchy/soft tacos (when you double up on soft and crunchy tortillas, you're welcome) available.
No matter your preference, tacos are for everyone. So, if you happen to be a taco lover like myself, and you currently reside in the wonderful city of Boston, this is your lucky day.
Here is a list of my five favorite taco spots in Boston:
1. Felipe's Taqueria
I grew up in Miami, so I know a good Mexican place when I find one. This is THE Mexican restaurant to beat in Boston.
Between being able to ask the waiter if he could give me "un poquito de pollo y un poquito de carne," and sipping on my Mexican Coca Cola, I felt like I was back in South Florida.
If (and when) you decide to go, make sure to double down on the pico de gallo; it's seriously some of the best I've ever had.
2. El Pelon Taqueria
I'm probably super biased because I live down the street from this place, but wow.
El Pelon is a hole in the wall with barely any seating but I'd punch my way through any crowd to get a bite of that taco. I'm telling you, if a tiny Mexican restaurant can compete with the Chipotle down the street, they're doing something right.
3. Lone Star Taco Bar
This place is like El Pelon's hipster older brother. Same kind of small, mom-and-pop vibe, but completely reimagined food.
I went there right before I developed my avocado intolerance and it was the perfect farewell guac. Besides that, you order taco by taco, so you don't have to get three of the same kind.
4. Anna's Taqueria
If you don't know Anna's, you're not from Boston. This is like the OG taco place in Boston, and they're opening up everywhere across the city.
Anna's is a major step up from the typical Chipotle, so if you're looking for a quick fix taco joint, this is your best bet.
5. Monte Cristo
If you come from Latin blood like myself, I feel like this is the only place you'll actually want to go today. Monte Cristo is one of those places you could easily walk past and not even notice it's there.
First of all, it's in Mission Hill – the most random location ever. But I'm telling you, it's worth the hike and the scavenger hunt to find it. Monte Cristo is run by a true Latin family and, even though it's tiny, their food packs some serious punches.
I won't keep going on because my mouth is already salivating and Lone Star Taco is down the street from my job.
There's nothing wrong with chowing down Chipotle chicken tacos, or running to your closest Qdoba and demanding some free extra guac. But if you're truly looking to celebrate in style, these are the place that are worth taco-ing about.