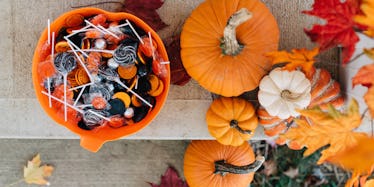 6 Healthy Sweets That Can Replace Your Bag Of Halloween Candy
Melanie DeFazio
The haunted houses, ghosts and tricks of Halloween can be pretty spooky, but what is really frightening about this holiday is how it can derail healthy eating habits before you can say "boo."
It starts with the Halloween candy presented in early September in gigantic and well-lit displays. It's hard to navigate around the Reese's Peanut Butter Cups and Twix without a few falling into your cart.
And then, when you see them in your pantry, it is nearly impossible not to enjoy a few (or more) samples before the big day.
After two months of looking at the Halloween candy, it's finally time for you to hand it out. There will be no disappointed children at your front door, so you buy way more candy than you'd ever need.
Then, there are dozens of pieces of candy just asking to be eaten. If you have kids in your home, you also have the opportunity to pilfer through their trick-or-treating haul as well.
Once you've fallen off the healthy eating wagon on Halloween, it's easy to talk yourself into making those same choices throughout the holiday season.
"Oh, why not have one more Peppermint Pattie? I'm going to start making pies for Thanksgiving in just a few weeks, and I'll be off the wagon then for sure." Next, you're on to Christmas.
Halloween becomes a gateway to either a successful or unhealthy holiday season.
But nobody wants to be a buzzkill on Halloween or at any of the parties that accompany the holiday. We still want to hand out candy and be part of the fun.
So, here are seven healthy Halloween candy alternatives you should try this fall:
Homemade Chocolate
Lots of the chocolate handed out at Halloween is packed with tons of sugar, high fructose corn syrup, preservatives and emulsifiers.
Turns out, it's easier than you'd think to make your own chocolate candy at home. Most simple recipes require only four ingredients and can be poured into any shape or mold you'd like.
Better yet, they can be ready in just 10 minutes.
Organic Lollipops
Some of us still want the convenience of buying our Halloween treats, but so many of the candies available are full of unrecognizable ingredients. That's why buying organic lollipops for Halloween is an easy way to fulfill your healthy Halloween obligations.
These are made with real fruit juice, not artificial colors or flavors, and have 100 percent of your kiddo's daily Vitamin C dose.
Thanks to the natural flavors, you don't have to worry about tons of added sugar and high fructose corn syrup. This will help you avoid the dreaded toothache that typically accompanies eating too much Halloween candy. 
Popcorn Balls
To make popcorn balls for Halloween, use butter, brown sugar and marshmallows to make the treat stick together. For Halloween, you might be tempted to add in some candy corn or other décor, but why not try dried cranberries, which are full of antioxidants, or roasted pumpkin seeds for a kick of extra magnesium?
Popcorn balls are basically the healthier version of Rice Krispies treats, and they will be a crowd-pleaser on Halloween.
Fun-Sized Treats
Some families balk at handing out homemade goods. They think, "What about allergies or those old wives' tales of razors hidden in homemade candy?"
Thankfully, there are at least some low-calorie, snack-sized candy options at the grocery store.
Look for Halloween-inspired jelly beans, touted the "healthiest" of the candies, individual Pixy Stix or a roll of Smarties without busting your healthy habits too much.
Healthier Candy Apples
Candy apples are a delicious Halloween tradition. Usually covered in sticky, sweet caramel or a hard, red sugar coating and placed on a stick, kids have eaten these treats for years.
For a healthy take on the candy apple, dip them in melted dark chocolate and roll in chopped nuts.
Allergy-Friendly Snacks
Many of us know at least someone who has food allergies or intolerances to ingredients like soy, nuts and gluten, and no one wants to see anyone left out of the fun of Halloween.
But, it can be hard to decipher the ingredient lists on those bags of candy at the store, so order allergy-friendly Halloween treats to ensure that all of the kids who come to your door (or friends who come to party) can enjoy the goodies.
Between the scary movies, insane parties and deciding how tasteless it would be to dress up as Kim K getting robbed, there are many things to keep us busy as Halloween approaches.
Don't fret about maintaining your healthy lifestyle during this spooky season by trying these healthy Halloween candy alternatives this fall.