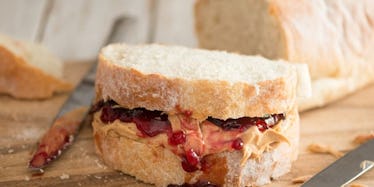 Some Geniuses Created Rosé-Flavored Jelly For Your Peanut Butter Sandwiches
Like its similar, equally trendy color millennial pink, rosé keeps evolving. There's pink wine-flavored gummy bears, ice cream, and now, jelly.
It's like peanut butter jelly time meets happy hour, and we have Studio City, California-based Etsy shop Drunk Jelly to thank for the genius creation.
Drunk Jelly's non-alcoholic Rosé Wine Jelly — their number one seller — is one of seven innovative, vino-inspired jelly flavors.
The others include Chardonnay, Pinot Noir, Moscato, Merlot, Pinot Grigio, and Cabernet Sauvignon.
Considering Rosé's pale pink hue is so different from your average Concord Grape stuff, one schmear is practically guaranteed to elevate your PB&J game to Instagram-worthy new heights.
But don't be fooled: This jelly is way more than just a pretty pantry addition.
It actually tastes great, too.
In their Etsy product description, the folks at DRUNKJELLY say it "has flavors of cherry, watermelon and a hint of lime."
Is it weird to drool over jelly?
People who've already purchased the genius product can't get enough of it. "I LOVE IT!!" one reviewer, who gave it five stars, wrote. "I finally got to try it last night and it was amazing!"
Imagine picnicking with a fabulous assortment of charcuterie, crackers, this jelly, and maybe even a rosé 40. That would be out of this world.
Ready to rosé all the way to your online shopping cart?
You can pick up a 4-ounce jar of Drunk Jelly Rosé Wine Jelly on Etsy for $6. Or, if you'd rather go big, an 8-ounce jar is available for $9.
Also, if you want to try out all the flavors, their full set of seven 4-ounce jars is available for just $35.
I hate to break it to regular jelly, but I don't think I can ever go back to my standard strawberry and grape faves.
Peanut butter deserves to live the luxe life with rosé, too.