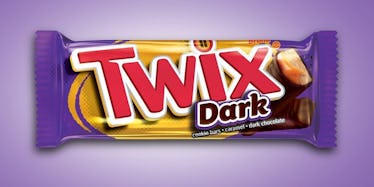 Dark Chocolate Twix Bars Are Finally A Thing And Chocolate Lovers Are Rejoicing
Amazon
If you love biting into that timeless chocolate and caramel-covered crunchy shortbread cookie, you're going to love Twix's brand's new dark chocolate bar.
The new candy bar -- called Twix Dark -- features the same tasty concept with an even richer flavor, all thanks to a higher cacao percentage in the chocolate.
According to a press release from Mars — the company behind Twix and the rest of America's best chocolate bars — Twix Dark is already "making its way into stores across the country."
Consider this your cue to freak out, chocolate fans, because the candy aisle is forever changed... in the best way possible.
Real talk though, the new Twix Dark packaging alone is bold enough to send me into an Amazon-ordering frenzy. (Like, for $31, should I get one or two 36-count boxes?)
Flavor-wise, I personally dig dark chocolate more than the milky stuff.
When Mars Chocolate launched a dark version of the Milky Way (Milky Way Midnight), I couldn't believe how much better it tasted than the original.
Hopefully the in-demand Twix upgrade will wow me in the same way.
And if it doesn't, Mars is also permanently re-releasing two old favorites: Twix Peanut Butter and Twix White.
Twix Peanut Butter, which is smothered with PB instead of caramel beneath a layer of milk chocolate, will be available again in September. I bet the fan favorite will go nicely with a little Rosé Wine Jelly.
Likewise, Twix White, a previously limited edition seasonal flavor, is returning just in time for the holidays in November.
Twix Brand Director Allison Miazga-Bedrick explained the expanded range in a statement. She said,
The dark chocolate, peanut butter and white chocolate categories are some of the largest and fastest growing partitions in our industry. We not only wanted to give Twix fans more flavor options to choose from, but all chocolate lovers more ways to enjoy our product.
What do you think, chocolate lovers? Are you ready to compare all four Twix flavors?