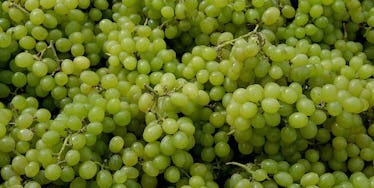 Cotton Candy Grapes Are Real And Twitter Is At War About The Bizarre Fruit
Francis Dean / Contributor / Getty Images
Grapes are a magical fruit. They're the fantastic snack that gifts us with a bottle of vino, so naturally, they're everyone's favorite item to pick up while browsing the produce aisle. But now, grapes have gotten a sweet addition thanks to a touch of cotton candy flavoring. No, this is definitely not a drill — the go-to snack is officially getting the carnival treatment, and it has people wondering where to buy Cotton Candy grapes.
For a limited time, those who live in and around a Sam's Club are in luck. The chain will sell the cotton candy-flavored grapes until Sept. 10, according to Delish. Judging from the fruit's spike in popularity, customers might want to get the store as quickly as possible so they don't miss out on getting a bag for themselves. Sam's Club is even offering a $1 coupon for a 3-pound bag, so that's even more incentive to get there ASAP.
This is certainly a new take on fruit and a new food craze. Unicorn season is officially behind us and now we're slowly working our way into pumpkin spice everything, but before fall kicks off, get one final taste of summer magic with these bad boys. For those who missed the games and Ferris wheel at a local carnival this year, a bag of these babies will make up for it. Naturally, since this new food is all the rage, Twitter has blown up with different opinions.
Some are skeptical about the Cotton Candy grapes.
Others are in love with the fruit and carnival candy fusion.
Regardless of opinion, the grapes have caused so much commotion that customers have been warned it might be easier to purchase the grapes online to ensure they'll definitely get a bag. Ordering grapes online — it's unbelievable!
So enjoy a final summer splash before the PSL hits this fall.