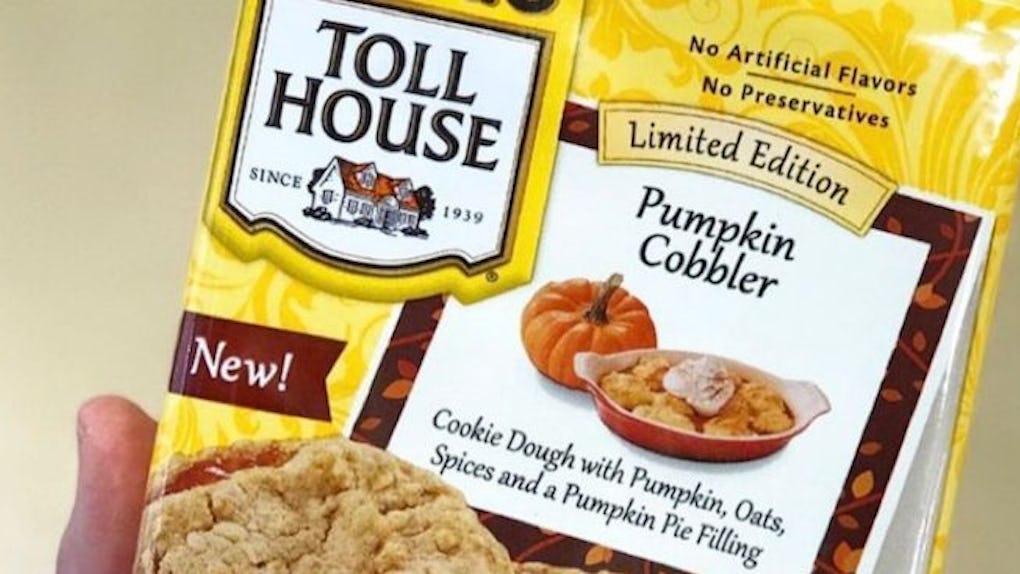 Courtesy of junkbanter on Instagram
Where To Buy Pumpkin Cobbler Toll House Cookie Dough, Because Yum
If you've been fighting the good fight, I applaud your efforts, but it's time to give in: Summer's coming to a close, and the days at the beach are winding down. You can put your bathing suit away and opt for a chunky sweater instead. What's even better about the arrival of the season is that all recipes across the board are getting the pumpkin treatment now that school is back in session and there's a slight chill in the air. One of those foods from Nestlé will send your tastebuds on a magical autumn journey once you figure out where to buy Pumpkin Cobbler Toll House cookie dough. 
The delectable desserts are made from pumpkin, oats, and spices. The treat first hit the scene thanks to Instagram user junkbanter, who keeps social media users abreast of news from all the important food brands in our lives — Dunkin Donuts, Halo ice cream, Oreos, and so on. He took to the photo sharing app to say, "I'm pretty sure Nestle Toll House just invented pumpkin cobbler and then immediately made cookies out of it." The user-submitted photo made its way to junkbanter from Giant Eagle, so if there's one in the immediate vicinity, you need to make a run for it. If there isn't a location in your nabe, hop on the Nestlé store locator for updates about where to snag the treat.
Though these pumpkin-flavored treats are gearing us up for the new season, it has been reported that this fall will experience record-high temperatures for a good portion of the season, so it might still be a bit warm, but nevertheless, all pumpkin everything is going to be a necessity. Track the fall foliage in your area  so you can really get yourself in the spirit of the season. Might I suggest a PSL to go along with your cookies?