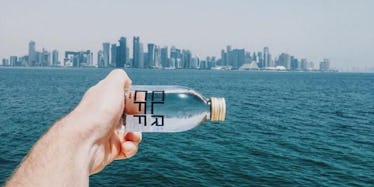 This Clear Coffee Is Taking Over The Internet And It Won't Stain Your Teeth
Instagram
As someone who practically needs a constant IV drip of caffeine pumping through my veins just to properly function, I've come to accept coffee's insistence on staining the crap out of my teeth.
I've always looked at it as the small price I pay in exchange for a beverage that allows me to not be a cranky, tired, raging bitch to everyone around me.
But today, my life has changed, because CLEAR COFFEE IS OFFICIALLY A THING.
CLR CFF is the first company ever to produce clear coffee, which is exactly what it sounds like.
It's a totally transparent, caffeinated beverage, the taste of which has been likened to a "potent cold brew."
According to Delish, the two London-based brothers behind CLR CFF created this magical invention when they realized their own caffeine habits were staining their teeth.
It only took them three months to perfect the process, which involves "high-quality Arabica coffee beans" treated with "methods which have never been used before."
Co-founder David Nagy told London Evening Standard,
We are heavy coffee drinkers. Like many other people we struggled with the teeth stains caused by it. There was nothing on the market that would suit our needs so we decided to create our own recipe.
Not only is it awesome that clear coffee will help you maintain your pearly whites, but CLR CFF sells the beverage in really large bottles, so you can make it last throughout the whole day instead of streamlining it like a mad man first thing in the morning.
Nagy added,
Because of the hectic lifestyle, we wanted to make a refreshing ready-to-drink coffee which provides the boost, but is low in calories.
A clear coffee will set you back a bit more than your typical cup of Joe, at £5.99 for two 200-ml bottles.
But for no stained teeth, fewer calories and coffee that lasts all day long? No complaints here.
Citations: Everyone Is Freaking Out Over Clear Coffee (Refinery29), Why we're all going to be drinking clear coffee (London Evening Standard), Clear Coffee Is Here To Save Our Teeth (Delish)