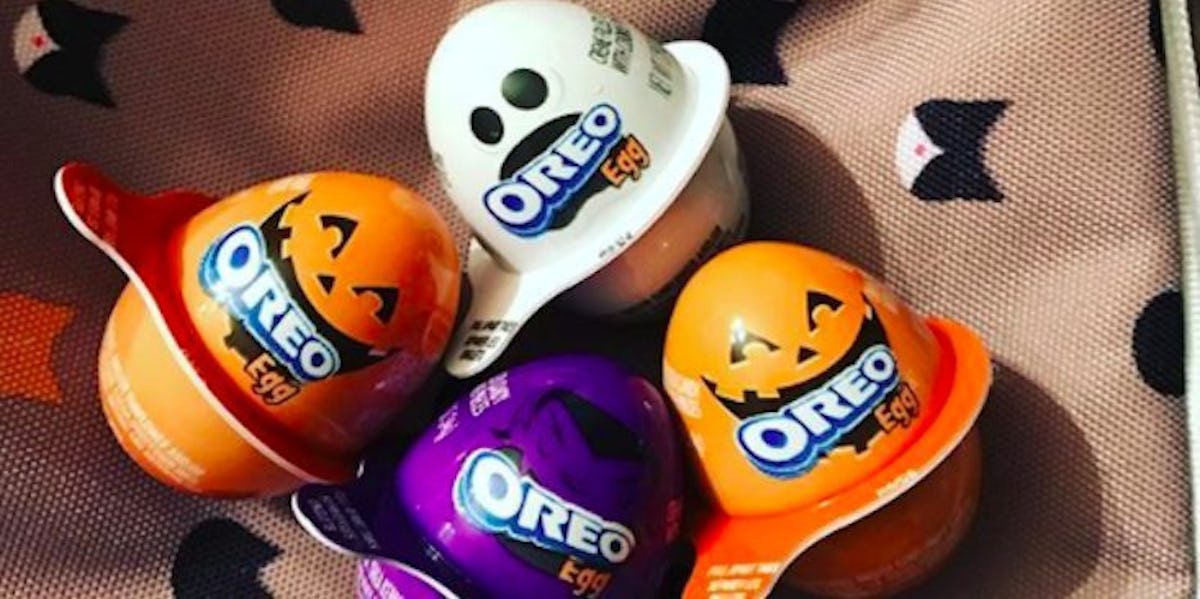 Chocolate Oreo Eggs Filled With Cookies & Cream Will Get You Stoked For Halloween
Depending on where you are in the world, this time of year means the temperatures are dropping, leaves are changing colors, and cool new Halloween products are starting to hit the shelves. Among the cool Halloween-inspired products of 2017 are Oreo Eggs filled with cookies and cream. Find out where to buy Oreo Eggs below.
If you're wondering what eggs have to do with Halloween, join the club, because I was wondering the same thing. I thought eggs were an Easter staple, but now that they're part of Halloween you can find them at your local Walgreens and Dollar General, Pop Sugar reports. And be sure to get them quick because they'll only be available for a limited time.
The adorably spooky candy comes in a plastic egg-shaped container (available in three different colors), and each contains a chocolate egg that is filled with cookies and cream. IDK about you guys, but I'd love to get this candy while trick or treating -- it's just the perfect little Halloween treat.
These Halloween Oreo Eggs were discovered by Instagram account @TheJunkFoodAisle before the internet went crazy over them. I honestly think eggs should be part of every holiday, and after seeing how cute these are, you will too.
Aren't they adorable? They seem like a collector's item or something, and the best part is that each egg will only set you back a dollar. That's a pretty great deal, if you ask me.
It's clear the masterminds over at Nabisco have been working overtime to bring their customers innovative new Oreo snacks. In the past few weeks, they've teamed up with the Cookie Dough Cafe to create edible Oreo cookie dough. They teamed up with Cadbury to bring us chocolate-covered Oreos, and they're always creating a new Oreo flavor.
My question is, what will they think of next?