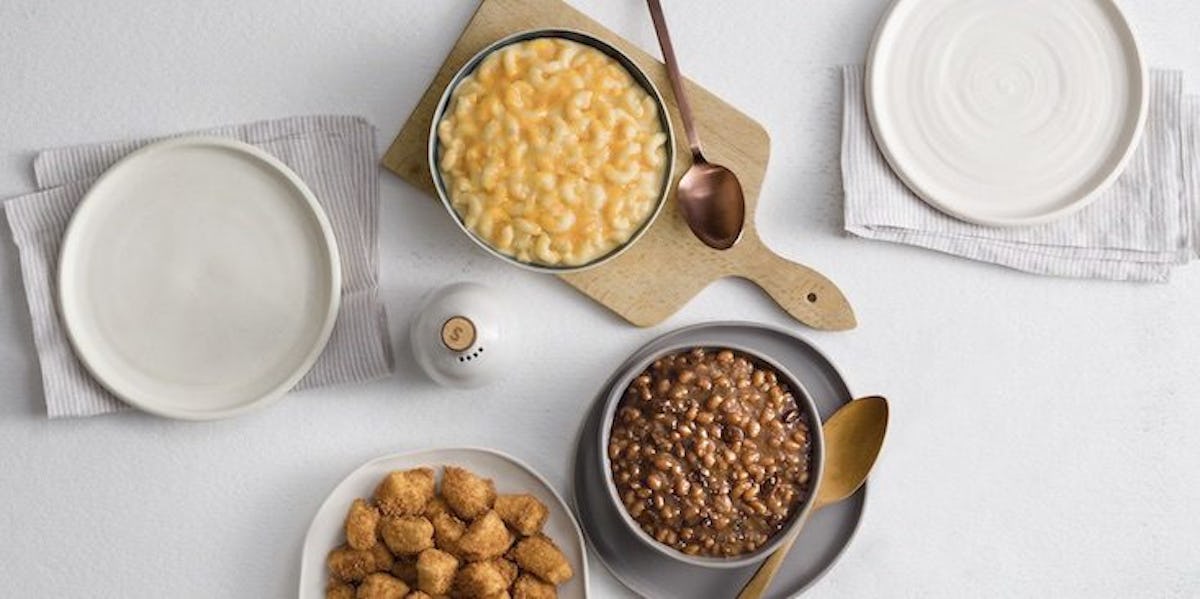 Chick-Fil-A Releases "Family Style Meals" With Mac 'N' Cheese And We're Drooling
Chick-fil-A
I'll admit it: I'm not a great cook. If we're being completely honest, I'd much rather go out for dinner with my family and friends and enjoy a hearty meal already prepared for me than spend late hours of the night over the stove.
Thanks to Chick-fil-A, my lazy-girl dinner dreams are coming true. The beloved fast food restaurant is testing out "Family Style Meals" that serve enough steamy soul food for four people, which means dinner for your and your hungry loved ones is about to be a breeze.
The "Family Style Meals" include hefty portions of meat that'll surely fill everyone's empty stomachs and tasty new sides that are guaranteed to fulfill your craving for comfort food. TBH, they look delicious.
KFC... you scared?
Now that you've seen a glimpse of what the meals look like, I'm sure you're dying to know what kind of options you can choose from when you order one of these bad boys.
According to Chick-fil-A, the "Family Style Meals" entrees include either a 12-count Chick-n-Strips, a 30-count Chick-fil-A Nuggets, a 4-count Original Chick-fil-A Breasts, or a 4-count grilled chicken breasts.
Like I said... this is one meaty meal (no pun intended).
Once you choose an entree, you'll have to pick two sides from a list of seriously delicious options. The sides include Mac and cheese (YUM), Bacon Baked Beans, Fruit Cup, Side Salad, or the Superfood Side (which involves kale, according to People).
So, yeah, you'll be nice and satisfied once you and your pals are done devouring it.
Matt Abercrombie, manager of menu development at Chick-fil-A, talked about the menu item in a statement and said,
Our customers told us that they wanted an even more convenient way to share meals at home or on the go, so we worked directly with a group of parents to design every part of Family Style Meals – down to the cutlery caddy that features five unique conversation starter questions to help customers connect over mealtime.
I know you're probably excited to chow down at Chick-fil-A, but I have some news that might be a bummer depending on where you live.
The family-sized menu is currently being tested in three locations throughout the country right now: Greensboro, North Carolina, Phoenix, Arizona, and San Antonio, Texas. Customers visiting those locations can try it out for $29.99.
Let's hope they love the meal so much that Chick-fil-A needs to make it a permanent menu item throughout the country. Bon appétit, ya'll!