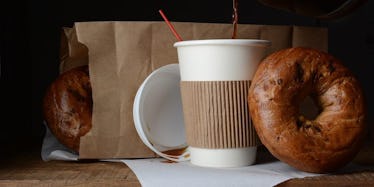 Caffeinated Bagels Are Here And They'll Bring Your Coffee Buzz To A New Level
Getty Images
If you aren't a morning person, right now is probably a good time to become one.
Why? Because caffeinated bagels finally exist, and they're about to take breakfast to an entirely new level full of doughy, delicious coffee-bagel bliss.
As if we didn't already need another reason to love our favorite morning snack, Einstein Bros. Bagels decided to stir caffeine into the mix.
It's genius, I know. The thought of a bagel that tastes like coffee is giving me a minor caffeine buzz and I seriously can't wait to try one.
The buzz-worthy treat, called the "Espresso Buzz Bagel," is the world's first caffeinated bagel, Fox News reports. It made its big debut on Thursday as part of the company's new "Boosted Bagel" flavor release.
It's been reported the bagel has 32 milligrams of caffeine, which is essentially a third of what you'll drink from an 8 ounce cup 'o joe.
So basically, you'll be able to wake up in the morning, skip the coffee and head straight for the bagel.
Good morning, indeed.
Plus, the Espresso Buzz Bagel sounds like it tastes pretty damn delicious.
Apparently, the bagel is made with espresso, coffee-cherry flour and added protein derived from cocoa, creating the perfect breakfast for anything with a craving for bitter coffee with a touch of sweetness.
Kerry Coyne, Vice President of Einstein Bros. Bagels, told to Fox News about the craft-coffee craze amongst young people (you and me) that inspired the caffeinated bagel.
She said,
We have watched the coffee category expand and adapt as Millennials converted to coffee drinkers, attracted by the smoother flavor and artisanal characteristics and third- and fourth-wave coffee. We knew our culinary team could deliver that same premium, hand-crafted sensory experience with the beloved category hero of espresso in our best-in-class, fresh-baked bagel.
As a true coffee-loving millennial with a soft spot for a delicious bagel, I definitely respect company's observations.
Next time you wake up in the morning craving a bagel and a caffeine buzz, visit Einstein Bros. Bagels and try one for yourself.
You can track down a store near you by clicking here.