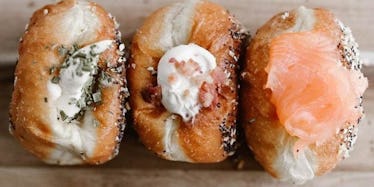 Bagel Doughnuts Exist And The Internet Has Very Strong Feelings About Them
Food hybrids have become very trendy in the last few years. A new hybrid, called the Bagel Doughnut, has the internet scratching its head.
This new treat was inspired by the malasada — a Portuguese doughnut typically made with yeast — and it's usually made as a sweet (not savory) treat.
Everything from the Meatzza to the Cruffin has become popular thanks to social media, but the Bagel Doughnut has successfully started a Twitter war.
The Bagel Doughnut is exclusively sold at Washington D.C.'s B Doughnut and is the brainchild of founders Brian and Pin Chanthapanya.
All of this sounds pretty normal, so why can't the internet agree on whether they like the Bagel Doughnut or not? Well, because the Bagel Doughnut is largely savory — though it does come in vanilla bean and lemon curd flavor for those too afraid of a savory doughnut.
Some people are hyped about the savory twist on a dessert favorite.
Some users feel highly offended by this new food.
Whoa @Manette912, that's some serious passion.
And because the Bagel Doughnut is sold in Washington D.C., many are making things political.
No matter how you feel about the Bagel Doughnut, you can't deny it's a pretty interesting fusion that's been a long time coming.
Available in flavors like bacon, chive, and locs, the Bagel Doughnut will surely satisfy your savory tooth. But be sure to eat them quickly, because otherwise you'll be left with a less-than-desirable, soggy bagel according to the Washington Post.
If you do find yourself in the Washington D.C. area anytime soon, be sure to visit B Doughnut's pop-up shop in Union Market, which will only be there until August 13.
If not, I'm sure you'll be seeing many versions of the Bagel Doughnut pop-up across the country by different names.
Look out for the "Doughgel" or the "Bagnut" in a city near you.