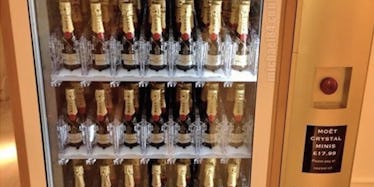 Champagne Vending Machines Exist Now, So You'll Never Run Out Of Bottles To Pop
Twitter
I love champagne.
When I say that, I don't just mean I love drinking champagne on the obvious occasions: New Year's Eve, weddings, etc.
I am that weirdo who loves to drink champagne even when I'm just sitting on the couch binge-watching "The Office" for the millionth time.
But I often feel like there's too big of a stigma when I try to order a glass of champagne when I'm out at the bar.
I guess that stigma is finally starting to disappear because champagne vending machines are officially a thing, and I'm trying not to lose my mind over it.
The machine is now open to guests at the Mandarin Oriental Hotel in Las Vegas. According to Travel + Leisure, it's stocked with 320 mini bottles of Moet's Imperial Brut and Imperial Rose champagne.
Each bottle holds about a glass and a half of champagne, and the machine even dispenses miniature flutes! So adorbs, must guzzle immediately.
Another bonus: The champagne bottles are dispensed from the vending machine without being shaken upon delivery, which means no surprise champagne bursts upon opening.
Although, if you ask me, that's half the fun of drinking champagne.
The vending machine is the first of its kind to open in the US, although Moët-Hennessy actually has a similar machine available for their employees at corporate offices in New York City (I would get lit AF every single day if I worked in that office).
In order to gain access to this bubbly-dispensing godsend, guests at the Las Vegas hotel must first purchase a $20 gold coin at the front desk and prove that they're at least 21 years old.
Here's to hoping this trend gains more traction in 2017.
If it does, you can guarantee that I will be the first consumer to install a champagne vending machine in my own home. Because I can.
Citations: Rejoice: champagne vending machines are finally here (Mashable), There's Now a Champagne Vending Machine in Vegas (Travel + Leisure), This Champagne Vending Machine Is Legit A Dream Come True (Delish)