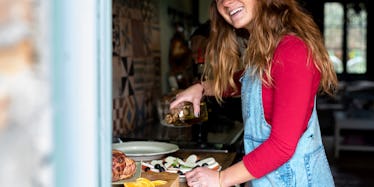 9 Foods That Will Actually Last All Week For Your Meal Prepping Needs
I know the story all too well, friends: Monday rolls around, and life hits you fast and hard.
Work responsibilities take precedence over sitting down for a full meal, social gatherings request your attendance late into the evening, and by the time you've checked everything off the to-do list, you have very little time to whip up dinner, let alone a decent breakfast or lunch for the following day.
Enter: the art of meal prepping.
I know the term plays over and over on your news feed like a broken record, but the technique is trendy because it actually works.
The trick is to find foods you can make Sunday and eat through Friday, without spending extra time in the kitchen during the week.
Here are nine foods you can prep Sunday, and still enjoy through Friday, just by storing them in the fridge.
1. Roasted Sweet Potato
Once I decided it was high time to advance my cooking skills, the first thing I did was roast vegetables in bulk.
My favorite to snack on? Sweet potato everything.
Roast or bake a few orange spuds with seasonings like sea salt, pepper, chili powder, or cinnamon, all of which will guarantee a ton of flavor.
Add them to your dinner recipes, freeze a few in a ziplock baggie for smoothies, or pile on top of Greek yogurt for a sweet, nutrient-dense breakfast.
2. Hard-Boiled Eggs
Eggs are versatile AF, and super affordable, which make them a prime component to any meal prep routine.
Bring a large pot of water to a boil, and gently drop the eggs in, bringing the water to a simmer.
After 15 minutes, transfer the eggs into an ice bath for five minutes before storing them in a bowl, or back into the carton in the fridge. Keep them in the shell to ensure they won't spoil.
Slice them up, and add to avocado toast, salads, grab one or two for an on-the-go breakfast option, or make egg salad for easy sandwiches.
3. Roast Chicken
Chicken can get old real fast.
To save a little time, buy a rotisserie chicken from your local grocery store, cut and separate into portions to pair with vegetables, make chicken tacos, add to salads, and more.
Note that chicken will spoil in the fridge after about three or four days, so to guarantee meals for each day of the week, freeze Thursday through Friday's portions to keep the protein fresh.
4. Oatmeal
Unlike hot cereal that takes a decent amount of time to prepare in the morning, overnight oats cook while you snooze, and you can either heat them up in a container at the office, or eat cold anywhere, anytime that's convenient for you (i.e. if you have to take bites in between applying makeup at your bathroom sink, you do you).
Using a one-part oats, one-part liquid base method, you can double or even triple the recipe to last you all week long.
Simply separate into travel-friendly containers, and add toppings like frozen fruit, coconut, granola, and nut butters in the morning.
5. Bananas
High in potassium, vitamin C, and magnesium, bananas are a highly nutritious, super delicious staple in the world of meal prepping.
Buy a bundle, and separate each individual fruit.
Personally, if I'm buying five bananas for the week, I like to freeze two to three for smoothies or a naturally sweet, frozen treat to curb afternoon cravings, and store the rest either in a fruit bowl on the kitchen counter, or in the fridge for banana and nut butter sandwiches, or to top dry cereals and oatmeal.
6. Kale/Spinach
To my SO's dismay, leafy greens are an essential in my fridge.
They're nutrient dense and easy to utilize for breakfast, lunch, and dinner, so he can suck it.
Freeze these babies for green smoothies, toss into omelettes, egg muffins, wraps, or use as a base to make hearty salads throughout the week.
The only grunt work you'll need to endure is giving each bushel a quick rinse on Sunday night so you don't have to worry about washing later on in the week.
7. Bone Broth
Unless you've been living under a rock over the past few months, or just neglecting your Instagram feed, bone broth is a hot commodity as of late, and it's high time you hopped on the bandwagon.
If you've got a full Sunday to spare, it's pretty easy to make your own, but if not, brands like Bonafide Provisions offer a frozen alternative, while Vital Proteins recently released its collagen bone broth in powder form for a quick meal that only requires you to add boiling water.
8. Frozen Fruit
A must-have any time of year, frozen fruit lasts longer than the apples and bananas you've got sitting pretty in a bowl on your dining room table, and even taste better in my opinion.
If you're big on smoothies, divide and conquer come Sunday evening by separating different combinations into plastic baggies so you have a selection of pre-made smoothies to drop into the blender.
If liquidized breakfasts aren't your forte, drizzling almond milk over frozen berries is a deliciously chilled wakeup treat, while tossing a few over Greek yogurt makes for a healthier dessert option.
9. Chopped Meat
Another great source of protein with an extended shelf life, cook the beef with a combination of spices. and store in a sealed-tight container.
Reheat in the microwave or over the stove throughout the week to top salads, stuff tacos, make meat sauce, and more.
One large batch should last you a week but, like chicken, it's advised that you freeze anything you plan to eat after Thursday.
Happy meal prepping!