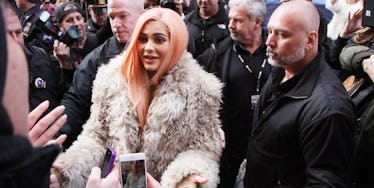 Kylie Jenner's Morning To-Do List Will Make You Feel Like A Slacker
REX/Shutterstock
Kylie Jenner does more before 10 am than you probably did during all of February.
You can knock the youngest kore Kardashian family member all you want for her lifestyle choices, social media addiction and whatever else makes you sound like Andy Rooney on "60 Minutes," but you have to admit one thing: that girl WORKS.
She's got a media empire and one of the most most popular makeup lines on the market -- possibly of all time -- by a celebrity spokesperson. She is a lot of things, lazy is not one of those.
Kylie recently sat down with Violet Grey and laid out her morning ritual -- which she says starts by waking up next to a fireplace she always keeps on in her room -- and it's absolutely insane.
She said while recently she has been sleeping in, usually she has her alarm wake her up, and at this point, she can't sleep past 8 am.
After she gets up, she does some makeup stuff, none of which I understand, for what seems like 45 hours based on how many words she used to describe her ritual.
She said,
My makeup room has all these drawers filled with makeup that I just rarely touch because I use the same stuff every day: Laura Mercier Setting Powder, Kylie Cosmetics eyeshadows, two mascaras (Too Faced Better Than Sex and brown Dior Iconic for under the eyes — Dior is a necessity to me). I love MAC brushes, Nars Concealer, Anastasia Brow Wiz, Anastasia Contour Palette, Anastasia Stick Foundation, Makeup Forever Foundation, Becca Blush, Nars Blush, Benefit Blush, Maybelline Fit Me Blush, Stila Lip Color, and Kylie Cosmetics Lip Kits.
After making her face up, she then goes to eat breakfast. Kylie said she makes eggs, rice and sausage -- though the eggs and rice portion is because Tyga's mom used to make him that.
She washes it down with a double shot Americano with almond milk.
After that, Kylie's morning picks up. She revealed,
First I read all my texts. I usually have a bunch because I have a lot of family members and we have a big family group chat. The main one is with my three older sisters, Kendall, and my mom. Then we have one with that group plus Scott, then we have a separate one with that group plus Rob.
She continued,
I check Instagram really fast and see who's on my feed. When I'm interested I'll go on YouTube and see what people are saying about Kylie Cosmetics, just to learn how I can improve. Some people say mean things on purpose just to get views.
She caps her morning off with a few Kylie Cosmetics meetings and then goes on her way.
I'm exhausted just reading this.
Citations: Cover Story: Kylie Jenner (Violet Grey)