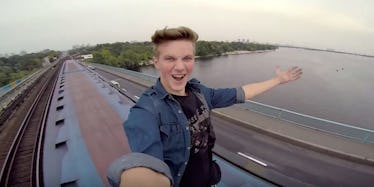 Man Pulls Off An Unbelievable Stunt By Riding On Top Of A Moving Train (Video)
What's the craziest thing you've ever done?
For one daredevil, it was probably this insane stunt he fearlessly pulled off!
In a recent video uploaded to YouTube by Ukraine-based badass Pasha Bumchik, we're taken along a wild ride on top of a moving train. The result? Well, this footage will certainly get your blood pumping.
First, Bumchik makes his way down to the train tracks. Then, he takes a detour and runs across a roof, leading him to a high-enough surface for him to jump on top of.
From there, he embraces every moment of the stunt.
Luckily, he was able to accomplish his random, wild goal of roof-surfing a train without sustaining any injuries. Oh, and no GoPros were harmed in the making of this film, either!
Check out the video above for a closer look!
Citations: Dude captures POV clip of his ride atop a moving train (Mashable)