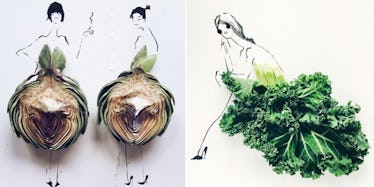 Artist Combines The Best Of Both Worlds With Food And Fashion Sketches
Growing up, you're always told not to play with your food.
Then years later, you find out playing with your food actually results in obtaining followers on your social media platforms. If only your parents told you that.
Well, we came across a perfect example: Gretchen Röehrs. She's a food artist racking up followers thanks to the awesome illustrations she creates using a variety of fruits and veggies.
But these aren't just any old drawings!
Röehrs uses the food to create fashionable outfits.
Check out the photos below for a closer look!
Want to design your own clothes but don't have the drawing skills to get started? Take notes from Gretchen Röehrs!
This creative Instagrammer uses various fruits, vegetables and objects to complete her drawings.
As you can see, she finds uses for just about every kind of food and all of the miscellaneous items you can imagine.
From apples...
To ping pong balls...
...to slices of bread!
Who knew a banana could double as haute couture?!
If you're looking for something to do with your veggies besides eat them, this hobby might come in handy.
I mean, it's not every day you see a head of lettuce double as a giant dress!
So far, Röehrs managed to rack up over 8,000 followers.
Citations: This Adorable Feed Is About to Become Your Favorite Instagram (Pop Sugar)