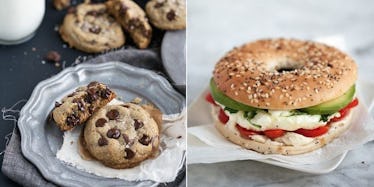 20 Recipes To Help You Eat Healthy Without Being An Annoying Diet Snob
Instagram
At some point we've all been guilty of it.
You know, being the person who just can't seem to STFU about the latest, ridiculous diet.
How else would the world know you're trying to get a bangin' bod if you don't take gym selfies and obsessively talk about the fact that you haven't eaten pizza in the past four days?
Don't get me wrong, I think it's really important to eat healthy, but no one likes a diet snob.
If you subject yourself to the misery of drinking liquid kale for week, there's no need to make a damn PSA about it every 10 minutes because, quite honestly, no one gives a f*ck about your diet.
It may seem hard to believe, but it actually is possible to eat healthy without flaunting the fact that you're on an "all carb diet" because you "just want to lose three pounds."
We found a bunch of low-key healthy meals to help you lose the bulge without looking like a pretentious d-bag who only eats the finest gluten-free, sustainable, cruelty-free, vegan health foods.
Take a look at the pictures below to see 20 discreet ways you can stick to your diet.
Healthy Stuffed French Toast
Egg Muffin Cups
Egg and Vegetable Breakfast Sandwich
Cocoa Banana Overnight Oats
BLT Spring Rolls
Whole Wheat Pesto Pasta Salad
Green Goddess Grilled Cheese Sandwich
Grilled Chicken Salad
Skinny Broccoli Chicken Mac and Cheese
Grilled Salad Nicoise
Mexican Stuffed Bell Peppers
Portabello Mushroom Pizzas
Chicken and Asparagus Lemon Stir Fry
Healthy Burrito Bowl
Skinny Shrimp Tacos
Pan Seared Salmon
Skinny Kung Pao Chicken
Clean Eating Chocolate Chip Cookies
Skinny Zucchini Brownies
Guiltless Cake Batter Ice Cream