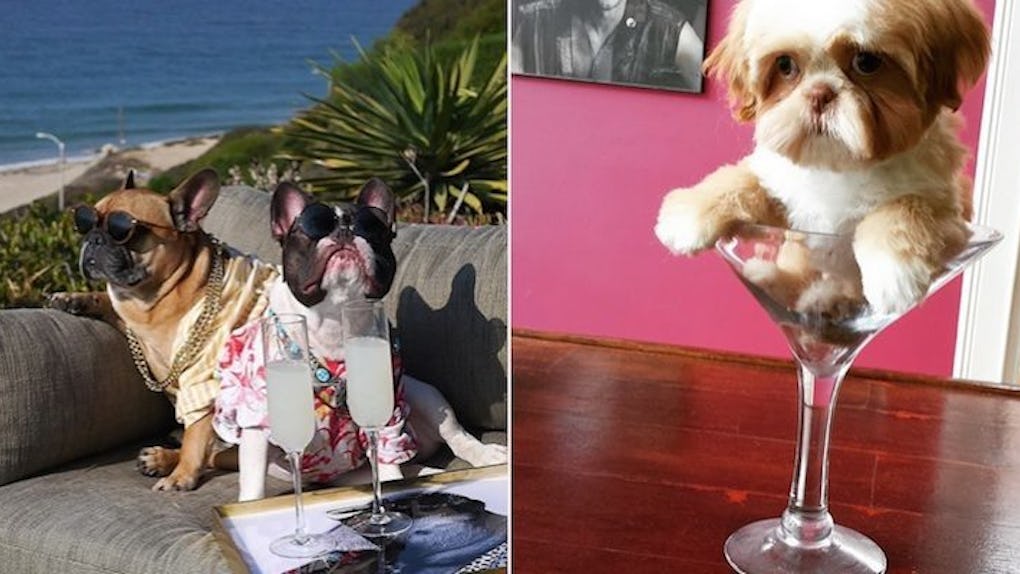 Instagam
These Hilarious Drunk Dogs Of Instagram Party Way Harder Than You
It turns out humans aren't the only ones who like to get their drink on.
Apparently, puppies like to party just as hard as humans and they make it look a lot more adorable than their two-legged BFFs.
By now, you've probably seen those puppy one-percenters that pop Dom P on the reg.
However, you don't need a million doggy dollars to get woofin' wavy on the weekends.
So, in order to represent all the other lush puppies out there, I set out to find the most badass, booze-drinking dogs on the Internet and put them all in one awesome, not to mention hilarious, Instagram account called Drunk Dogs Of Instagram.
It's always 5 o'clock somewhere for these plastered pups, and when it comes to getting canine crunk they'll drink pretty much anything they can get their little paws on.
In fact, sometimes they don't even use their doggy bowls, and just chug that sh*t straight from the bottle like a barking boss.
Take a look at the pictures below to see the Drunk Dogs Of Instagram.
This fido frat dog shotguns Keystone for breakfast.
Getting sauced on the doggy DL.
Hound hangovers are the worst.
Kirill has nothing on this party animal.
A mutt mojito a day keeps the vet away.
No brunch is complete without booze.
We woke up like this. #StillDrunk
Just double pawing these puppy pints, NDB.
I prefer my canine cocktails like I prefer my men: strong.
Just cuddling on the couch with bae.
Ready for spring break! Bring on the beers and bad decisions.
This fido is faded.
Turn doggy down for what?
You are what you drink.
There ain't no party like a puppy party.